Vice-Premier Li Keqiang called for the expansion of domestic market demand through projects such as affordable housing and medical system reform, amid signs of the economy cooling further.
During an inspection tour in East China's Jiangsu province, the vice-premier said that the transformation and upgrading of economic structures is an effective approach to expand domestic demand and ensure steady growth.
"While economic growth is generally on track, the international environment is complex and there are still many uncertainties and unsteady factors about the world's economy," Li said in comments reported by China Central Television.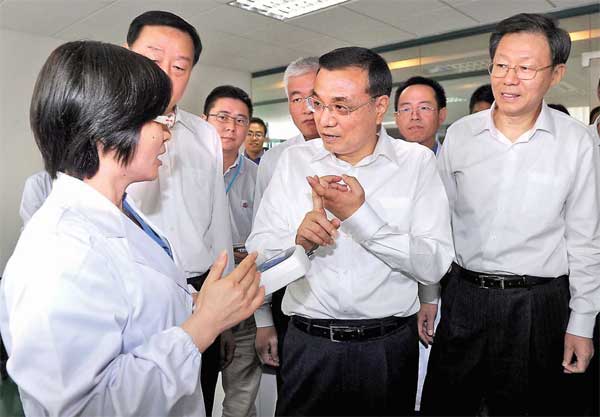 Vice-Premier Li Keqiang talks with staff members at Jiangsu Sujing Purification Group during an inspection tour to Jiangsu province on Tuesday. Li called for a boost in domestic consumption through projects such as affordable housing and reform of medical services. [Photo/Xinhua] 
"We should properly handle the relationship between keeping a steady and rapid growth, adjusting economic structure and managing inflation expectations, and adhere to the proactive fiscal policy and prudent monetary policy," he added.
"The biggest potential (of our economy) lies in the domestic demand," he said, adding that domestic demand should be expanded while further exploring international markets.
He stressed projects for affordable housing and healthcare reforms to stimulate demand and improve people's livelihoods.
In 2011, around 10 million affordable homes were under construction around China, and about 4.32 million were completed, according to statistics from the Ministry of Housing and Urban-Rural Development. The number of projects under construction is expected to reach a new high in the years to come.
Li visited several local enterprises, villages and farmland during his visit and exchanged views with company representatives, villagers and farmers.
Li's comments came as a series of lower-than-expected economic indicators showed that the economy is facing further downside risks.
Chinese growth is likely to slow to 8.2 percent this year, its weakest in more than a decade, before government support helps it rebound to 9.3 percent in 2013, the Organization for Economic Co-operation and Development said on Tuesday.
The OECD cut its growth forecast for the world's second-largest economy from the 8.5 percent predicted last November. That is still higher than a government target of 7.5 percent.
Data for April, including factory output and fixed-asset investment, suggests growth has weakened from the first quarter, when it hit a three-year low of 8.1 percent.
The OECD expects the central bank to further ease policy and boost bank credit for first-time home buyers and sound property developers, which could help stabilize the property market.
The People's Bank of China has cut the amount of cash banks must hold as reserves three times since November to crank up lending. Analysts expect further cuts in reserve requirements and more fiscal measures to support the economy.
Reuters contributed to this story.
Contact the reporter at wangzhenghua@chinadaily.com.cn