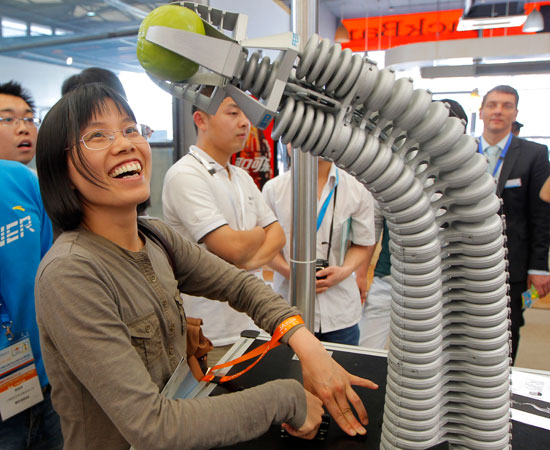 A visitor is fascinated by the light and freely moving Bionic Handling Assistant made by Festo, a leading world-wide supplier of automation technology, at the Sixth SNEC PV Power Expo in Shanghai on Friday. The machine can be used in the photovoltaic industry. [Photo / China Daily]
Solar industry insiders remain optimistic about the sector's future, despite the recent challenges it has faced from a supply glut and weak demand.
Shares in solar power companies are falling and some big players have even gone to the wall. But many insiders say they are confident that the market will revive, especially with the growth in Asia and the Americas.
"I believe the market will revive in 12 to 18 months," Brian Lau, director of DEK Solar, said at the Sixth SNEC PV Power Expo, held in Shanghai from Wednesday to Friday.
Oversupply of polysilicon, a key component in manufacturing solar panels, has been further depressing the price of solar cells. Meanwhile, European countries, formerly big consumers of solar products, are slashing subsidies for the industry due to the financial crisis.
Lau said the production capacity surplus is driving solar prices down, which makes manufacturers suffer. But it will push the industry to go forward, as once prices become lower, there will be more customers.
"After all, the industry cannot always rely on subsidies," he said.
"It is painful for manufacturers, as the price falls. But it is a good thing, as a lower price means solar will be able to compete with other energies like natural gas or coal. It will become self-sustained," said Rhone Resch, CEO of the Solar Energy Industries Association, the national trade association of the solar energy industry in United States.
Manz AG, a Germany-based manufacturer of production systems for making crystalline solar cells and thin-film solar modules, established its biggest plant worldwide in Suzhou, an eastern city close to Shanghai.
"Almost all companies are losing money because of overcapacity in the sector across the country, including us," said Dieter Manz, the company's founder and chief executive officer.
"But the user market is growing really fast so we still see great opportunities. You need quite some investment to achieve economy of scale, which is notably critical to the industry," he added.
Due to technological advances, the cost of solar power has substantially lowered so he foresees a quick pickup in demand in the near future, with thin-film solar modules rebounding first, because its potential for cost reduction is far bigger than crystalline solar cells.
Lau's company launched its next-generation integrated cell manufacturing metallization platform named "Apollo" during the expo, to attract solar cell makers.
"Currently, more output is not what they want, what they want is a cost-effective, and accurate production line," he said, noting the new platform will save space by 50 percent, and also largely reduce energy consumption, while improving the battery conversion rate.
Around 95 percent of DEK's clients are based in China, where most panel makers are located. However, the mainland is not consuming the products. More than 90 percent of solar panel products made on the mainland are intended for export. As the European market is sluggish, Lau said he believes the mainland will eventually be a big market for solar power.
Shi Dinghuan, president of the China Renewable Energy Society, said policy innovation is equally important for the revival of the solar industry.
Preferential policies adopted by the German government greatly benefited the solar industry, which is a good example for China.
In fact, Chinese manufacturers are eager to push the authorities to tap the domestic market.
"As solar becomes cheaper and cheaper, it is very likely that China will widely consume it in future," said Hong Chongen, general manager of Shanghai Era Solar.
His company has developed solar roof products, and is actively lobbying the authorities to promote this kind of roof in villas.
Contact the writers at xieyu@chinadaily.com.cn and hewei@chinadaily.com.cn