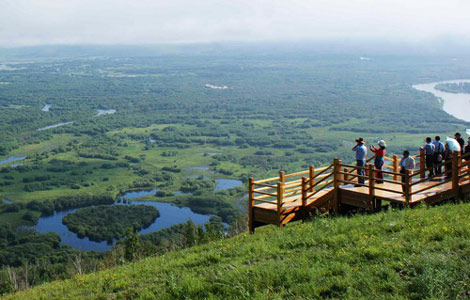 The Ergun wetland in North China's Inner Mongolia autonomous region is one of the largest in Asia. [Photo/China Daily]
Although the Ergun Wetland Protection Zone attracts more than 1 million domestic and foreign tourists every year, local forestry authorities struggle to balance operating costs for the zone, one of the largest in Asia.
"Besides the costs for daily protection and maintenance, the budget for infrastructure construction is far above our means," said Zhen Guang, head of the Ergun city forestry bureau in the Inner Mongolia autonomous region.
But money problems are relatively easy to solve, because Zheng is applying for State-level wetland protection zone status, which will bring funding from the State Forestry Administration.
Lack of a national wetland protection law, however, has become the major barrier for wetland preservation across the country, experts said.
"China does not have a national law exclusively for wetland protection. Therefore, local governments have no rights to punish wetland violators, which speeds up the urbanization of wetlands," said Niu Zhenguo, a professor of the Institute of Remote Sensing Applications under the Chinese Academy of Sciences.
He added it is common for factories and villas to be built on wetlands or for dams and bridges to choke off the water.
Experts explained that the cost for 1 square meter of land reclamation from wetlands is less than 300 yuan ($47), much less than the price of land available through the market.
At the end of March, media reported that nearly 100 villas were built in Hebi National Wetland Park, Central China's Henan province.
With money to be made, many wetlands have vanished.
Wetland losses from the total 91 national protected wetland zones was about 8,152 square kilometers (almost equivalent to the area of eight Hong Kong) from 1978 to 2008, according to a four-year-assessment by the institute, which was released in February.
Nearly 80 percent of the wetland had been poorly protected, especially those areas located along the Yangtze River and the coast, the assessment said.
A wetland is a land area that is saturated with water, either permanently or seasonally, which plays the ecological roles of water purification, flood control and shoreline stability.
Wetlands are also considered the most biologically diverse of all ecosystems, serving as home to a wide range of plant and animal life, such as migratory birds.
Ma Guangren, director of the Wetland Conservation and Management Center of the State Forestry Administration, told China Youth Daily in April that the severe drought in five provinces in Southwest China was partially triggered by wetland losses.
"It is like an unknown world full of surprises for us to discover," Niu said, adding that protecting wetlands is like passing a treasure on to future generations.
Research shows that 1 hectare of wetland can purify the excess nitrogen and phosphorus from 100 hectares of farmland, which is the most effective way to filter out agriculture pollution and industrial sewage.
Fortunately, the authorities have become aware of the importance of wetland. The culmination of ten years of work, a national wetland protection regulation is expected to be launched before 2014, Ma said.
About 11 provinces and autonomous regions had launched provincial or regional wetland preservation regulation as of October, according to the center.
Zhen in Ergun said that Inner Mongolia is carrying out the strictest wetland protection measures this year and investing in wetland preservation programs.
Beijing publicized the draft of the capital's wetland protection regulation online recently, which said that anyone who reclaims wetland will be given a maximum fine of 5,000 yuan per sq m.
The draft said activities such as taking bird eggs, collecting peat, picking wild vegetables, introducing harmful species and blocking water resources are strictly banned in wetland areas.
Jiangxi province, home to Poyang Lake, a crucial winter habitat for migratory birds, is also expanding its wetland protection regulation coverage from the lake area to the whole province on May 1.
Regulations state that a fine of at least 50,000 yuan will be levied on those who discharge industrial waste or domestic garbage into the lake and the wetland area.
"The current protection is for the future sustainable and scientific development of the resource and environment," Niu said.
Zheng Yaomin from the Institute of Remote Sensing Applications said that under the frame of wetland protection regulation with proper supervision, commercial activity, such as building entertainment facilities and fishing, could take place in wetland areas, so protection and profit are balanced.
Robert McGinnes, a British independent wetland expert, said that protecting wetland does not mean putting up a fence to keep everyone out, but rather it is about wisely using the wetland for its benefits.
According to the first national wetland survey, released in 2003, China has nearly 4 million hectares of wetland with about 1,700 species of wild animals.
The second national survey started in 2009 and is expected to be finished this year.
In 1992, China joined the International Convention on Wetlands and designated seven wetland sites as the "Wetlands of International Importance", known as Ramsar sites.
Contact the writers at wangqian@chinadaily.com.cn and zhengjinran@chinadaily.com.cn