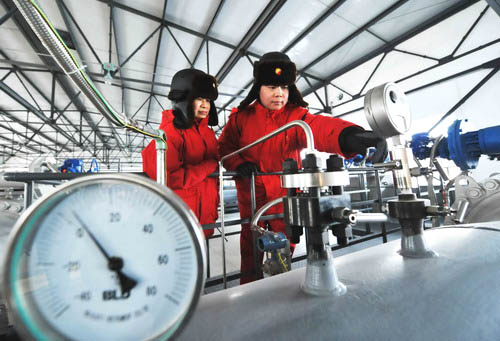 Two workers monitor the China-Russia oil pipeline in Daqing, Heilongjiang province. The pipeline, which went into operation in January last year, can transport about 15 million tons of oil from Russia to China a year. [Photo/Xinhua] 
Sino-Russian cooperation in the energy sector will expand beyond the traditional oil and gas arena as economic ties between the two countries continue to grow closer, industry experts said.
Russia sold 2.31 million tons of crude oil to China in March, a year-on-year increase of 47.8 percent. Russia became China's third-biggest source of crude oil after the country slashed crude oil purchases from Iran by more than 50 percent year-on-year.
Russia exported a total of 7.17 million tons of crude oil worth $2.06 billion to China in the first three months of this year, an 81.4-percent increase from the same period last year.
"Growth of such imports from Russia will continue, as the two countries, which represent the world's major oil consumer (China) and supplier (Russia), need each other to maintain economic momentum," said Song Kui, a senior energy researcher at the Northeast Asia Research Institute at the Heilongjiang Provincial Academy of Social Sciences.
The oil and gas sectors make up more than 20 percent of Russia's GDP, while China, the world's second-largest economy and oil consumer, depends heavily on imports of foreign oil - more than 55 percent of oil consumption - to support its economic growth.
Energy cooperation between the two countries has been improving at a stable pace measured by any means from trade volume to the number of participating sectors, said Han Wenke, director of the Energy Research Center at the National Development and Reform Commission.
Energy ties spearhead the two countries' strategic cooperation, which will have even brighter prospects as bilateral trade grows, Han said.
Vice-Premier Li Keqiang began his official visit to Russia on Thursday and will stay until Monday, making it the first official visit by a top Chinese leader to the country since Russia's March presidential election.
The two countries have set a target to increase bilateral trade to $100 billion by the end of 2015 and to $200 billion in 2020. That's compared with $79.3 billion in trade last year.
The first oil pipeline connecting Russia's Siberia region to northeastern China's Daqing started operation on Jan 1 last year. The pipeline addresses the two countries' aim to lower delivery costs and provide more efficient means to deliver oil.
The pipeline is expected to annually export about 15 million tons of oil from Russia into China for 20 years.
Even though a pricing dispute arose last year, an agreement was reached early this year.
Negotiations between China and Russia about two more gas pipelines have also stalled due to price issues.
The disputes are commercial, as companies involved in the energy projects have to take profitability into consideration, Song said.
But he added that the conflicts have eased after Russia achieved membership of the World Trade Organization in December by providing the companies involved with a fairer and more transparent business environment.
In addition, apart from traditional oil and gas resources, China and Russia still have plenty of room to cooperate in sectors such as renewable energy and unconventional gas, which Russia has yet to vigorously tap into, Han said.
"We can expect broader and deeper cooperation between the two large economies," Han said.
zhouyan@chinadaily.com.cn