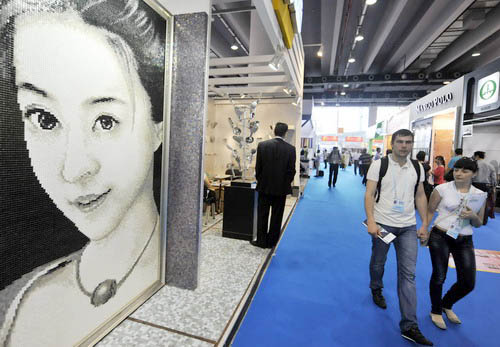 Visitors pass a ceramics booth at the China Import and Export Fair in Guangzhou, Guangdong province. The country aims for annual growth of 10 percent in its foreign trade in the coming years, well below the average of recent years. [Photo/Xinhua] 
Costs of labor, materials and land pressure manufacturers
Reacting to slower world economic growth and rising domestic costs, China has set itself a lower goal for increasing its trade and says it expects a larger share of its trade to occur with emerging economies.
China said it expects its trade to increase by 10 percent a year and be worth $4.8 trillion by 2015, according to a trade plan for the country's 12th Five-Year Plan (2011-15) period. The plan, released on Thursday, did not set specific goals for exports and imports.
The new target is significantly lower than the rate trade increased at during China's 11th Five-Year Plan (2006-10), when it went up by 15.9 percent a year on average.
The lower expectation reflects the country's slower economic growth. The rating agency Moody's Investors Service said in a Thursday report that China's real GDP growth will fall from the annual average increase of 10.3 percent seen in the past decade to somewhere in a range between 7.5 percent and 8.5 percent in 2012 and 2013.
Besides the world's grim economic prospects, modesty contributed to the plan's lower target, an official from the Ministry of Commerce told Xinhua News Agency.
"We reserved some room for growth when making the plan," said the official, who was not identified. "The target reflects the government's goal to have trade increase faster than economic growth and the world's average trade growth."
Li Yushi, vice-president of the Chinese Academy of International Trade and Economic Cooperation affiliated with the Ministry of Commerce and a guest economist for China Daily, said China's growing economy is another reason why it will be difficult to maintain the previous rate of increase.
Its rising labor, raw materials, energy and land costs are also putting Chinese manufacturers under more pressure, the plan said.
"Chinese enterprises, especially those in traditional industries and small and middle-sized businesses, face diminishing cost advantages, weakening external demand and capital shortages, and are caught in the dilemma of surviving and upgrading products and moving up the value chain," the plan said.
The plan foresaw demand remaining weak as a result of lackluster growth among big economies. China's trade with developing countries, meanwhile, is expected to go from 53 percent of its total trade to 58 percent by 2015.
The plan also said China will urge developed countries to loosen the controls they place on exports of high-tech products, and import more energy, resources, raw materials and advanced equipment.
To that end, the plan called for reductions in tariffs charged on energy, raw materials, essential components and advanced equipment, and for "appropriate" tariff reductions on consumer goods.
To increase exports, the plan said, the government will consider reforming its tax rebate system.
Currently, local governments are partly responsible for providing the rebates. That system, at times, gives rise to a discrepancy between local governments' rights and obligations.
The plan also encouraged domestic enterprises to move into the upstream of the supply chain. Enterprises are encouraged to take on more clout in the international pricing of energy, resources and commodities.
zhengyangpeng@chinadaily.com.cn