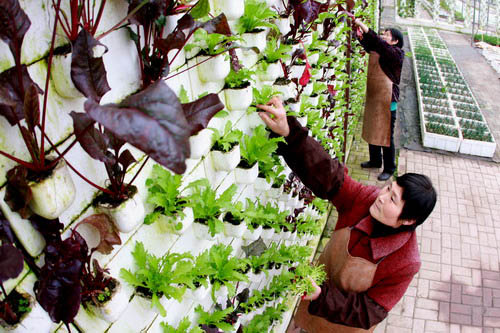 Workers pick organic vegetables, which will eventually be packaged and sold as gifts in the Xingyun Modern Agricultural High-tech Park in Lianyungang, a city in Jiangsu province. [Photo/China Daily]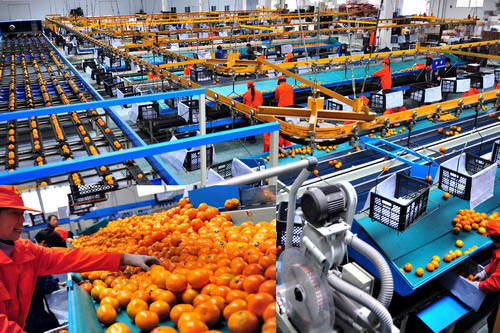 Workers package citrus fruits on a photoelectric wax production line in the Wuling district of Yichang, a city in Hubei province, in November. [Photo/China Daily] 
Knowledge about value chain vital for successful investment in sector
Transforming an old business can be much harder than building a new one, especially in agriculture, a business that has been around for thousands of years.
So Wang Cen, a partner at Beijing Tiantu Capital Ltd, has every reason to be proud of his achievements so far, investment of more than 100 million yuan ($15.9 million) in two fast-growing companies, after six years of close study of the broader farm business. Tiantu was one of the earliest venture capital funds in China's agricultural sector.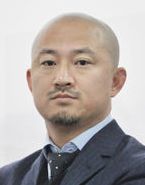 Wang Cen, partner at Beijing Tiantu Capital Ltd 
More investment will be made in agriculture, Wang said, citing a research paper by Southwest Securities Ltd that showed annual per capita pork consumption in China had reached 33.1 kilogram by the end of 2010, a rise of 85 percent over the past two decades.
In the meantime, annual per capita consumption of dairy products was 11.27 kg, a seven-fold rise from just 10 years earlier.
Of the two companies that Wang has invested in, one is Beijing Bainian Liyuan Eco-agriculture Co Ltd, a producer of organic chickens and eggs. In 2010 and 2011, the company received 45 million yuan in investment from Tiantu.
The other company is Zhouheiya Food Co Ltd, a supplier of cooked and marinated duck and goose meat products, based in Hubei province. Tiantu invested 60 million yuan in Zhouheiya in 2010 to help it build its supply chain and information management system.