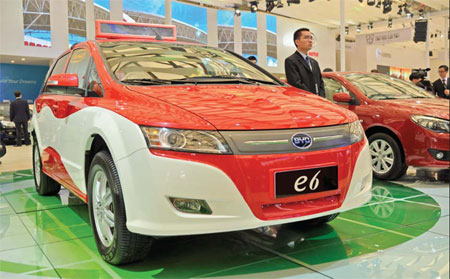 BYD plans to focus on fleet sales of the e6 model in the United States. Provided to China Daily
BYD Co Ltd, the Chinese electric carmaker backed by United States billionaire Warren Buffett, has started weaving its green dream in the US. After setting up its North America headquarters in Los Angeles last year, it has unveiled plans to roll out its green products in the US market.
The company announced recently that it will focus on fleet sales of its electric car model e6 in the US market over the next 18 months. Last year, the company delivered around 300 e6 in China, mostly to taxi companies.
BYD, which stands for Build Your Dreams, made its debut in the US in 2000 as a supplier of batteries for major cell phone makers such as Motorola and Apple.
Since BYD has only one office in the US designated for "green products", Los Angeles is serving as a research and development center for electric vehicles, solar panels, energy storage products and LED lighting systems.
Micheal Austin, vice-president of BYD America, says Los Angeles is an optimal place for BYD to develop electric vehicles and other green products. "California has plenty of renewable resources, and the state is already rewarding people buying electric cars by granting them incentives and helping them to set up charging facilities. It is a very green state that leads the country."
In 2011, California offered consumers about 20 different state incentives to ignite purchases of green vehicles. One example was a rebate of up to $2,500 for a plug-in hybrid or a zero-emissions vehicle that was approved or certified by the California Air Resources Board.
Though BYD is known as an automaker, the company has much bigger dreams. "BYD is far beyond a car manufacturer, but a zero-emissions solution provider in the US," Austin says.
Its solution is a zero-emissions ecosystem, which Austin describes as getting power from solar panels, storing it in batteries that are used to charge electric vehicles to jolt the electric transportation market.
Over the past few months, BYD has been in talks with a major US company to collaborate in such a system, with investment estimated at $50 million.
The ecosystem, to be established in California, will operate with the same principle as the Laurel Mountain wind farm, where 1.3 million batteries and electronic components use wind to power the grid.
"That will be the largest implementation in the US," Austin says, adding that the details of the project will be disclosed in March.
According to BYD's vision, burning coal is much more harmful to the environment than combustion vehicles, so swapping electric vehicles for fuel-powered cars won't be enough to solve the emission problems.
"I believe this ecosystem is more promising in the US market because it is easier for American people to understand," Austin says.
These new initiatives are also helping BYD to diversify its product line and to ease the pressure from selling electric vehicles in a highly competitive market with strong competitors such as Chevrolet Volt, Nissan Leaf and Tesla Roadster.
Eileen W. Tutt, executive director of the California Electric Transportation Coalition, says entering the local EV market is very hard because it is expensive to produce EVs, which is the reason for the high sticker prices.
"GM (General Motors) has a large fleet of products to balance the high cost of the Chevy Volt, but it is not easy for BYD to do that. And there is almost no chance that BYD is going to get the same subsidy from the government as it does in China."
In Shenzhen, where BYD is based, electric car buyers are provided subsidies of up to 120,000 yuan ($19,063, 14,428 euros) per vehicle by the government, which reduces the sticker price by 32 percent.
But Jeff Schuster, senior vice-president of global forecasting at the consulting firm LMC Automotive (formerly JD Power automotive forecasting), says operating without incentives in the US might be a good thing for BYD in the long run.
"In the short term, the US government should offer incentives to encourage people to buy EVs; but in the long term, EV companies have to be financially viable to survive."
Although BYD has been in the US for more than 10 years, its e6 is less popular than the Volt, Leaf and CODA. These cars are mostly commuter cars that can reportedly eat up 150 miles per charge.
"Maybe it is right to keep a low-profile if BYD only wants to do fleet-sales. But if it aims to enter the individual market, they still have much more to do," Tutt says.
Austin says this is because the e6 is positioned differently than its competitors.
"BYD's focus is on long range EVs that target the mass market," he says, "E6 can last 220 miles per charge, so it is not a commute car like others."
Considering all of the e6s on the roads, combined they have racked up 6 million miles, making BYD the top EV manufacturer, Austin says. "I don't think Volt or Leaf comes anywhere near that."
"For many Americans, they can charge EVs in their garage. But if cars can only be charged at home at night, it is just a commute car confined within 40 miles. BYD is designed for the long-range transportation that needs to be supported by public charging infrastructures."
But Tutt says the ability to drive longer distances could backfire for BYD given the current availability of charging stations in the US.
"From the market perspective, longer range is a huge advantage, and there is certainly a market for EVs with a range more than 200 miles; but even in California where the number of charging stations is ahead of other states, locations of charging stations are not that easy to find."
He admits that e6 is more dependent on public charging stations. Currently there are 1,541 electric charging outlets available in the state, 26 percent of the total number in the country, according to figures from the US Department of Energy.
And a longer range would result in a higher cost of the vehicle. "Once an electric car is priced over $50,000, it is hard to sell," she says.
The price of e6 hasn't been announced in the US because "it would depend on the volume of the order", as Austin says. The same model in China is priced at 369,800 yuan (about $58,000).
As a company with multiple product lines, BYD is encountering challenges never met by Volt or Leaf.
"The biggest challenge for BYD is finding local partners in the US," Austin says. "We are the only company that does battery, solar and EV. Nissan Leaf gets the battery from NEC, Toyota doesn't build batteries, either, and Ford buys their batteries from a Korean company."
Austin says when they seek partners, they want them to sell solar, LED lighting as well as the zero-emission vision.
"We don't want a batch of GM dealers, but we want them to educate the customers, like the Apple stores, on what the technology can bring to them. It is about how you live, not just how you drive."
As promising as it sounds, Schuster from LMC says the prospect of e6 is not only a matter of technology, but also a customer behavior issue.
"The public is still concerned about the battery life, known as the 'battery anxiety'. And the premium price has to be brought down before the market really takes off," he says.
He cites the forecast from LMC that EV penetration in the US can reach 1 percent by 2020, or 10 percent if hybrids are part of the same category.
"Certainly we need to publicize more to raise people's awareness, but the soaring oil price and the reduced price of EVs are really the two pushing hands," Schuster says.
"Fortunately, there is a large group of young people who learned about EVs, and are willing to buy environment-friendly cars."
(China Daily 02/24/2012 page17)