Group-buying firms look to Taobao
Updated: 2011-12-26 10:31
By He Wei (China Daily)
| | | | | | | | | | | |
| --- | --- | --- | --- | --- | --- | --- | --- | --- | --- | --- |
|   | | Comments() | | Print | | Mail | | Large Medium  Small | 分享按钮 | 0 |
SHANGHAI - Group-buying business Groupon Inc's successful listing may be heartening news to most of its domestic counterparts as they endeavor to transform their existing business models after suffering stretched cash-flows and setbacks on the capital market.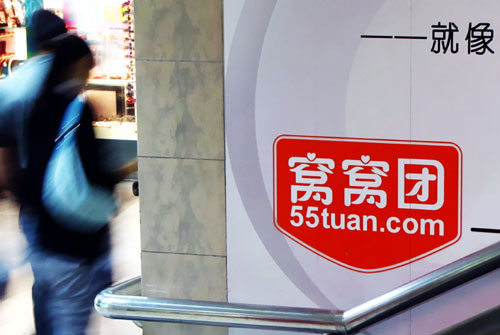 An advertisement for the Chinese group-buying website 55tuan.com on the walling of a building in Shanghai.55tuan.com recently joined the Taobao platform, providing discount coupons for services ranging from catering to entertainment.[Photo/China Daily]
Wanting to cash in on the success of taobao.com, the country's top online marketplace by registered user, a number of group-buying sites have gained footholds on its business-to-customer (B2C) arm, Taobao Mall.
Small and medium-sized operators, such as manzuo.com, 55tuan.com, ftuan.com, recently joined the Taobao platform, providing discount coupons for services ranging from catering to entertainment.
In its latest discount event on Dec 12, Taobao's online trading recorded some 4.3 billion yuan ($672 million) in revenue. As a result, sales of many group-purchase sites through the Taobao channel have been brisk, various company sources revealed, without disclosing the exact figures.
According to Feng Xiaohai, chief executive officer of manzuo.com, entry into other e-commerce sites has become a rite of passage for web-based retailers trying to recreate their brands.
"We hold an open attitude toward embracing other platforms because the recognition of our brands is not confined to visiting our own website alone," Feng told China Daily. He said discussions with other portals such as 360buy.com are still under way.
The rationale of such cooperation is self-explanatory, he said, as it "enables us to get more public exposure, infuses new impetus to taobao.com and provides value-added services to brick-and-mortar stores".
The move also palpably educates the market, Feng added. In third-tier cities and towns where group buying is far from prevalent, online buyers can approach this concept via the traditional e-commerce model he or she is used to.
The group-purchase phenomenon saw the shutdown of more than 1,000 small sites within a year. The Chinese group-buying search engine tuan800.com claimed 14 percent of such sites in Guangzhou had failed to post new deals in two months.
Nationwide, revenue generated by all group-buying sites in October slumped 11 percent month-on-month, a major fall since the beginning of 2011, online search engine etao.com reported.
Yan Yan, a managing partner with SAIF Partners, a venture capital fund and investor in Vancl.com, told the first Financiers Forum in Shanghai that the key to e-commerce businesses is brand creation and recognition in a short timeframe.
"Group-buying sites usually lose money on their major businesses but they are eyeing venture capital and private equity to compensate for the losses. They need to overhaul their business models and turn them into more sustainable ones or they will fail," Yan said.
Likewise, some see the current crisis as a window of opportunity to transform and upgrade. The group-buying business will inevitably evolve into a "dual-track" model, namely, integrating routine online offers with special discounts, a senior executive of 55tuan.com said.
"The duration of group-buying deals has gradually been extended from 24 hours to seven days. Some offers do not even have a time limit. The shift demonstrates the changing nature of group-buying activities, from an advertising campaign to a distribution channel," the source, who declined to be named, told China Daily.
His site has just become a member of Taobao Mall, and he believed the opening of more such virtual stores presented numerous marketing opportunities.
"The dual-track model helps us maintain stable and long-term relationships with vendors, thereby bringing about more tempting discounts," he said. "This is equally beneficial to both our branding and sales growth."