Provincial borrowers defer loan payments
Updated: 2011-12-26 10:06
By Henry Sanderson and Michael Forsythe (China Daily)
| | | | | | | | | | | |
| --- | --- | --- | --- | --- | --- | --- | --- | --- | --- | --- |
|   | | Comments() | | Print | | Mail | | Large Medium  Small | 分享按钮 | 0 |
BEIJING - China's biggest provincial borrowers are deferring payment on their loans just two months after the country's regulator said some local government companies would be allowed to do so.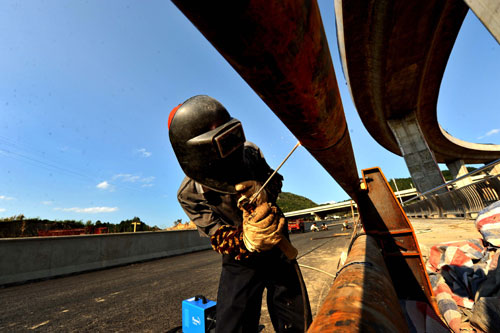 A flyover under construction in Guiyang, Guizhou province. Some provincial borrowers are deferring payment on their loans after banks lent heavily to local governments in 2009 to sponsor projects such as infrastructure to shore up the economy battered by the global crisis. [Photou/China Daily]
Hunan Provincial Expressway Construction Group is delaying payment on 3.11 billion yuan ($490.5 million) in interest, documents governing the securities show this month. Guangdong Provincial Communications Group Co, the second-largest debtor, is following suit. So are two others among the biggest 11 debtors, for a total of 30.16 billion yuan, according to bond prospectuses from 55 local authorities that have raised money in capital markets since the beginning of November.
As local governments delay payments for projects commissioned as part of the stimulus to ward off recession in 2009, less money is available for bank lending even as China is taking steps to inject more into the economy. The central bank has held interest rates at 6.56 percent since July to boost the economy, while the US Federal Reserve and the Bank of Japan have kept benchmark rates near zero since 2008.
"When companies start to roll over debt they're not retiring debt, and banks aren't retrieving their capital, so you're crowding out new lending," Patrick Chovanec, a professor at Tsinghua University in Beijing, said in a Dec 13 interview. "This is a problem that's going to start to bite next year."
Local governments had 10.7 trillion yuan in debt at the end of last year, 79 percent due to banks, according to the country's first audit released in June. So-called local financing vehicles that meet collateral requirements can have a one-time extension on their loans, Zhou Mubing, vice-chairman of the China Banking Regulatory Commission, said at a conference on Oct 24 organized by the Internet portal Sina.com.cn, according to a transcript of his comments on the website.
Guangdong Provincial Communications Group, Hunan Provincial Expressway Construction Group, Gansu Provincial Highway Aviation Tourism Investment Group Co and Sichuan Railway Investment Group Co owe more than 200 billion yuan to banks, the data show. They plan to defer 34.4 billion yuan in interest payments, according to their bond prospectuses.
Lei Wanming, Gansu Highway's deputy Communist Party secretary, said the company's interest payment deferrals do not raise any concerns. "Our company can pay our interest and our principal payments with no problem," he said in a Dec 5 interview. "You can't just consider this issue by looking at a bond prospectus."
Guangdong Communications, Hunan Expressway and Sichuan Railway did not reply to phone calls and faxes seeking comment on their interest rollovers. The China Banking Regulatory Commission did not respond to a faxed request for comment on the issue.
National leaders set a goal of "relatively fast" economic growth for 2012 at a major conference in Beijing that ended on Dec 14, according to the Xinhua News Agency. The global outlook "remains very grim", Xinhua cited the leaders as saying.
Local governments in China set up the financing companies to pay for the construction of roads, sewage plants and subways after they were barred from directly issuing bonds and obtaining bank loans under a 1994 budget law.
Benchmark 10-year government bond yields fell three basis points from 3.5 percent to 3.47 percent. The yield premium over similar-maturity US Treasuries has narrowed to 161 basis points, from a high of 237 on Sept 22, according to data compiled by Bloomberg starting in 2005.
Five-year credit-default swaps insuring against default on China's sovereign debt rose 3.2 basis points recently to 149.66 basis points, according to data provider CMA, which is owned by CME Group Inc and compiles prices quoted by dealers in the privately negotiated market. The contracts pay the buyer face value in exchange for the underlying securities or the cash equivalent should a government or company fail to adhere to its debt agreements.
The extra yield required to hold Hunan Provincial Expressway's 900 million yuan in 2012 bonds has increased to 308 basis points from 151 basis points on June 21, when they were issued. That compares with a current spread of 11 basis points on Shenzhen's five-year direct municipal bonds.
Yields on local government financing company bonds will remain high next year as selling debt becomes a main channel for raising funds, China International Capital Corp analysts led by the fixed-income analyst Xu Xiaoqing wrote in a Dec 16 research note. Most of the bonds are sold at yields of 8 percent, or 144 basis points more than the benchmark bank lending rate, according to the report. Five-year top-rated corporate bonds yield 4.98 percent, according to Chinabond, the nation's bond clearing house.
"Although the China Banking Regulatory Commission has recently eased loan restrictions to help liquidity, recent supply has been increasing, causing the secondary market to pay attention to systemic risks," they wrote. "The credit quality of recent financing vehicle bonds continues to get weaker."
Some local-government financing vehicles say they do not employ the practice of delaying interest payments. Suzhou Sujiahang Freeway Co projects it will not defer any interest on loans through 2015 as its bank debt falls by more than 80 percent, the company said in a prospectus this past month.
Shanghai became the first Chinese local government to sell bonds directly since 1949 when it issued three-year bonds at 3.10 percent last month as part of a test. Guangdong, on China's southern coast, Zhejiang and the city of Shenzhen have sold similar notes.
Even after the reduction in interest payments, Gansu Provincial Highway said that interest and principal payments in 2011 will amount to 3.33 billion yuan, more than its 2010 cash flow of 3.04 billion yuan, according to bond-marketing materials.
"This prospectus is telling us that banks can expect to only receive roughly half of what would have been expected in interest payments," Charlene Chu, a Beijing-based banking analyst with Fitch Ratings, said of the Gansu disclosure.
Bloomberg News