Surplus revenue is a taxing problem
Updated: 2011-12-26 09:46
By Wei Tian (China Daily)
| | | | | | | | | | | |
| --- | --- | --- | --- | --- | --- | --- | --- | --- | --- | --- |
|   | | Comments() | | Print | | Mail | | Large Medium  Small | 分享按钮 | 0 |
Experts say the nature of China's budgetary model is a main cause of inefficiency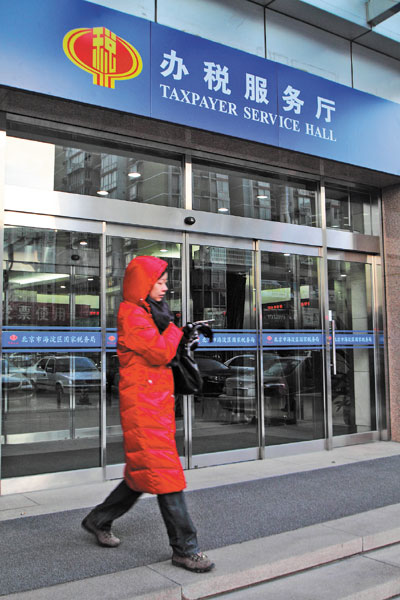 A tax office in Beijing could have a fiscal revenue surplus of 1.44 trillion yuan by the end of December. [Photo/China Daily] 
BEIJING - Like many taxi drivers, Zhang Ping picks up a temporary job at the end of every year, selling fapiao, or receipts, to his passengers. The receipts - which should by rights have been given to Zhang's customers - can then be handed into employers, providing workers with reimbursement for related expenses.
Often, the fapiao - not limited to cab receipts - don't carry specific information about the related purchases and so can be used to claim a variety of expenses.
"At first, I wasn't aware that it was an opportunity to make some extra money, plus it's against the company's rules to do it. But with an increasing number of people asking me to sell them extra tickets, I thought there might be a huge demand and started to save the unused tickets," Zhang said.
The taxi driver could easily save dozens of tickets a day. That amounts to a couple of hundred yuan a week at face value and can often add up to some ten thousand yuan ($1,600) each month.
By selling each ticket at 5 mao - a subdivision of the yuan -Zhang's second job provides him with extra pocket money at this time every year. "I take this as my year-end bonus, although I still feel a little guilty about doing so," he said.
However, what Zhang doesn't realize is that his little business is just a start of a much more complex process, and that his "bonus" is only a drop in the ocean compared with what his customers gain.
A Christmas gift
Although Christmas has not yet been recognized as an official festival in China, different government bodies and public institutions celebrate heartily at this festive time of year, because for them, the shopping budget comes with 12 zeros.
According to the budget set by the government at the start of the year, China's fiscal expenditure for 2011 was to be 10 trillion yuan and the expected revenue was to be 8.97 trillion yuan, 8 percent higher than in 2010.
But plans rarely keep up with events.
According to data from the Ministry of Finance, fiscal expenditure for the first eleven months of the year totaled 8.9 trillion yuan, leaving approximately 1.1 trillion yuan to be spent in December.
Meanwhile, fiscal revenue recorded faster-than-expected year-on-year growth of 26.8 percent to 9.73 trillion yuan by the end of November, already in excess of the full-year target.
And if revenue continues to grow at the targeted rate of 8 percent year-on-year, there will be a surplus of 1.44 trillion yuan by the end of December.
As a result, thanks to "thrifty" finance officers and hardworking tax-payers, there will be about 2.5 trillion yuan left in the account book. Officials will then have to decide whether to spend or save as the New Year approaches.
Writing the checks
Although the Chinese people are known for their ability to save money, being economical is never the preferred choice when it comes to government spending.
"The basic reason is the irrational fiscal budgetary system, which draws up plans based on the previous year's expenditure," said Shi Zhengwen, a professor with the fiscal and finance research center at the China University of Political Science and Law in Beijing.
Experts said any surplus left over from the annual budget must be returned to the treasury. However, that rarely happens in practice as a case of departmental underspending is likely to lead to a reduction in the size of the budget for the following year, because the department will have indicated that it didn't require so much money in the first place, said Shi.
He explained that in an evaluation system centered primarily on GDP, a budget surplus is unlikely to garner praise, but may instead result in officials being labeled as "not putting enough effort into making investments".
Therefore, the end of each year is a time when government officials search for an ever-increasing number of ways to spend all the remaining money.
One way to digest the money is to collect various fapiao and apply for reimbursement, facilitating the business for taxi drivers such as Zhang.
However, a much more "efficient" way of disposing of leftover capital is through widespread government procurement, although the efficiency of such a spending model has been widely questioned.
A media report in late November put the issue in the spotlight once again. A businessman in central China's Hunan province claimed that a local government procurement project costing 30 million yuan had a real market price of only 15 million yuan.
Local officials defended the purchase, saying it was made in order to "guarantee quality", but at the same time admitted it was also made to provide "better utilization of the budget" through methods such as setting a "price floor" when inviting bids.
The most expensive items are, apparently, the best - an attitude that is certainly not unique to China.
Government documents and expert estimates show that about half of all government purchases are made in the last three months of the year. Moreover, the money spent in the last month, December, usually accounts for more than 20 percent of the annual total. In 2008, for example, December purchases of desktop computers were more than five times higher than those in January, according to data from the central government's purchasing department.
When will it end?
At the country's budget implementation conference in late November, Liao Xiaojun, vice-minister of finance, reiterated the regulations governing year-end spending sprees.
"Government procurement (staff) need to put more effort into planning, information disclosure and maintaining contract records. And any violation will be met with strict penalties," Liao said.
Meanwhile, Liao said the ministry will strengthen supervision of the use of surplus revenue. "The surplus should only be used in key areas such as education, affordable housing, and debt repayments, while the rest should be put into the central government's budget-stabilization fund," he said.
"Not all year-end spending increases are necessarily a violation of the rules," said Bai Jingming, deputy director of the finance ministry's fiscal science research center.
The use of the budget during the course of the year is not conducted at an even pace and may vary in different months. One reason for the spending fever at the end of the year is that most of the government's work kicks off at that time.
"What taxpayers are really concerned about is the amount squandered through this sort of spending and the possible corruption behind it," Bai said.
To solve the problem once and for all, some experts are calling for an "overall planning" budgetary system - under which the size of the budget is calculated by studying each relevant aspect, regardless of the previous year's expenditure.
But China has yet to meet the requirements to implement such a system, according to Shi.
Without greater efficiency and a higher level of management, this system would become a mere formality and would only add more work for the members of the People's Congress, the Chinese legislature, who already have only a limited time in which to review the budget plan, he said.
"The massive spending at year-end is not unique to China. It is a problem that exists in many countries. The main problem lies in an annual budget system measured by input rather than results," said John Ross, who was director of economic and business policy for former London mayor Ken Livingstone and is now a visiting professor at Shanghai Jiao Tong University.
One possible way to solve the problem is to link officials' salaries to measurable output instead of expenditure - most likely in departments such as transport, health and education. The formulation of budgetary periods longer than 12 months would also be helpful as they would improve the long-term effectiveness of the spending.
"But in order to employ such efficient methods, it's necessary to pay good salaries to the managers, combined with mechanisms to make it reasonably easy to remove them if they under-perform. That's what countries with notably efficient governments, such as Singapore, are doing," commented Ross.
Christmas for all?
While the authorities worry about having too much to spend, experts have suggested that the money should be used to support the social welfare system.
The huge amount of fiscal revenue gives people the illusion that China is a rich county, but the wealth of a county is not always a guarantee that living standards can be upheld for everyone, said Wei Sen, deputy director of the school of economics at Fudan University in Shanghai.
The Chinese government is expected to receive more than 10 trillion yuan in fiscal revenue this year, but its spending on health insurance for the 1.3 billion population was just 200 billion yuan, equivalent to that of Greece, a county with only 10 million people, Wei said.