BEIJING - China's environment minister, entrusted by the State Council, or Cabinet, signed agreements on emission reduction targets with provincial-level governments and major state-owned enterprises.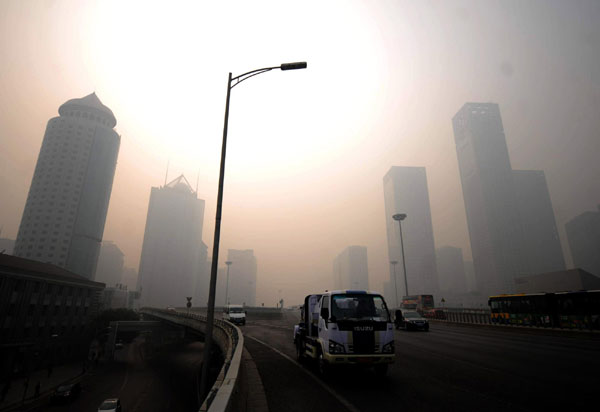 Heavy fog shrouds buildings in Beijing, Oct 30, 2011, [Photo/Xinhua]
Minister of Environmental Protection Zhou Shengxian signed the agreements with 31 provincial-level governments, the Xinjiang Production and Construction Corps, and eight state-owned enterprises at the National Environmental Protection Conference that kicked off on Tuesday.
The agreements specify mandatory emission reduction targets and pollution control targets for these local governments and enterprises, respectively, within the 12th Five-Year Plan period (2011-2015), and lists major emission reduction projects that signatories have to fulfill within a designated time frame.
According to the listed projects for 2011-2015, China will build at least 1,184 new sewage treatment plants with a daily capacity of treating 45.7 million tonnes of sewage, and equip thermal power plants with a total generating capacity of 400 million KW with de-sulfurizing facilities.
The central government will conduct annual performance evaluations of provincial governments in emission reduction and pollution control, and hold underachievers accountable, according to previous State Council statements.