Famous monk's path to art of wood 
Updated:2011-12-20 17:52
By Zhao Chunzhe (chinadaily.com.cn)
 Famous monk's path to art of wood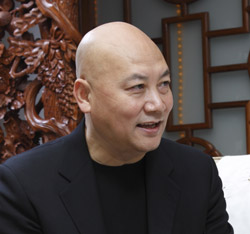 Chi talks about his red sandalwood collection in the museum on Nov 15, 2011.

Chi Chongrui's role as the Buddhist monk Xuanzang in the Journey to the West in 1987 may have made him a household name in China, but it's the star's adventure into the world of fragrant timber he would prefer as his lasting legacy.

Chi and his wife, Chen Lihua, the country's richest woman, opened China's only museum specializing in red sandalwood furniture and artwork. The grand Chinese-style building in the east of Beijing oozes opulence and exquisite architecture.

Inside the Red Sandalwood Palace, Chi – who retired at the prime of his career and now devotes his life to art – looks much younger than his 59 years.

He says red sandalwood is dubbed the "king of the wood" as it's extremely hard and heavier than water. A red sandalwood tree only grows one inch every 100 years and it takes 400 years to reach maturity.

Finding red sandalwood in China is a difficult task and Chi and his wife will travel across South Asia to buy the rare wood, which now priced at 1.8 million yuan ($267,657) per ton. Sandalwood is priceless in the art market, but Chi refuses to sell any piece of their family's collection, apart from presents to worldwide museums or galleries.

"There are more than 1,000 pieces of work in the museum, but you cannot find a single nail in any of them. They are all tenon-and-mortise joints, all adopting traditional Chinese patterns," Chi said with proud.

Chi said carving on red sandalwood is not easy work and involves many traditional handcrafts. One miniature artwork of Siheyuan, a traditional northern Chinese courtyard residence, takes five years to complete.

"The handcraft has been listed as a state intangible cultural heritage this year. I hope I can bring my collection to more countries to have more people see traditional Chinese culture, "Chi said.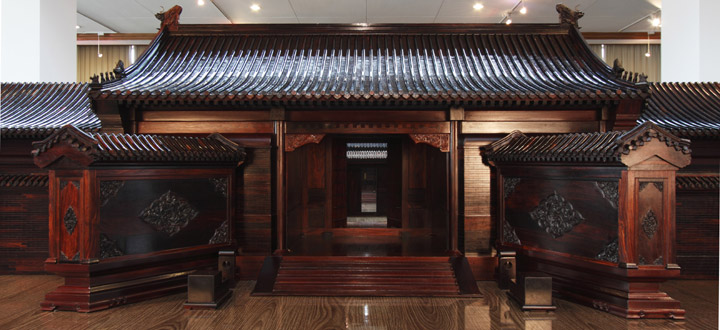 The front gate of Prince's Residence is built in the center of the quadrangle flanked by screen walls. [Photo/Sun Xinqiang]