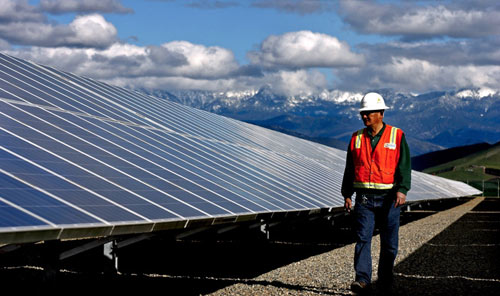 A solar farm in Porterville, California. Experts say that increased competition in energy products from China has resulted in a price drop for solar panels and wind turbines. [Ken James / Bloomberg]
WASHINGTON / NEW YORK - China has driven down the price of alternative energy products in the US market, which has benefited consumers, said US business executives and analysts.
China and the United States are currently engaged in a dispute over a US investigation based on claims by a group of US solar panel manufacturers, including Germany-based SolarWorld AG.
The group has accused Chinese rivals of dumping solar panels on the US market.
China's Ministry of Commerce said on Thursday that China is strongly dissatisfied with the investigation, which not only hurts bilateral cooperation in the renewable energy industry, but also damages US interests.
Theodore Roosevelt IV, board chair of the Center for Climate and Energy Solutions, said that increased competition from China has resulted in a price drop for many alternative energy products, including solar panels and wind turbines, which actually "has benefited American consumers".
According to the US Solar Energy Industries Association, the cost of solar electricity in the US has dropped by 30 percent since last year. The US also saw net exports of $2 billion in solar products last year, including more than $200 million to China, trade data show.
China has been playing an important role in tackling climate change, but "in a way many of the people in this country (the US) don't fully understand", Roosevelt said.
Even many US companies oppose the action, saying that global competition is making affordable solar energy a reality in the US and around the world.
"SolarWorld's action to block or dramatically curtail solar cell imports from China places that goal at risk," the Coalition for Affordable Solar Energy said on its website.
Roosevelt said the paranoia is a result of the US facing increasing "economic and political competition", which causes "some people to worry excessively about that".
The US held the top spot in clean energy investment until 2009, when China took the lead for the first time.
Kevin Tu, senior associate of China Energy & Climate Policy at the Carnegie Endowment for International Peace, said Chinese manufacturers with a significant presence in the US should consider expanding their manufacturing operations in the country. By doing so, they can easily bypass any potential protectionism laws resulting from anti-dumping cases.
Many Chinese solar companies have already established operations in the US, including Suntech Power Holdings Co Ltd, Yingli Green Energy Holding Co Ltd, Trina Solar Ltd, and LDK Solar Inc.
Suntech has a factory in Goodyear, Arizona, employing about 100 people.
China Daily