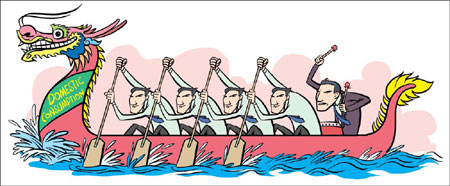 Zhang Chengliang / China Daily
Global asset management firm Carlyle buys into consumption-led growth in China
Global market volatility has dominated recent news headlines and will continue to do so for a while. Most capital markets around the world have gone back to the levels last seen toward the end of 2009. Some believe this has been a healthy correction. Perhaps it is a clear reminder that much needs to be done to put the world on a solid footing. With Europe in crisis, and both the US and Japan looking for the political will to manage their debt, slowing global growth is leading to softer demand for Chinese exports. Against this backdrop, the Chinese government's 12th Five-Year Plan (2011-2015) released this past spring calls for balanced development. The plan emphasizes "inclusive growth" and calls for numerous efforts to encourage domestic consumption, including the development of China's rural and western areas and the transformation of its industrial structure.
With this plan, the government seeks to provide the foundation for long-term, sustainable economic growth to improve the quality of life for all Chinese citizens. Driving domestic consumption has been given unprecedented priority.
As China transitions to higher domestic consumption while balancing regional development, business people must also shift their thinking about all aspects of doing business in and with China.
Carlyle Group believes that this shift presents vast opportunities for investment. And, in recent years, we've optimized our investment strategy to better facilitate China's social and economic development.
Accordingly, Carlyle's China investment thesis today is oriented toward domestic demand - led by a strong and growing middle class and rapid urbanization of rural areas. This is a shift from our initial investment focus, which emphasized export-oriented manufacturing businesses that capitalized on China's growing exports.
Taking note of the long-term demographic trends, we have worked to capitalize on the growth of large urban areas and the rapid demographic shifts that have seen millions of people from rural areas moving into China's suburban cities. Nearly all of our recent investments have been in Chinese companies that provide goods and services to the country's middle class - from food and insurance to financial services and tourism.
By some estimates, the country's persistent growth will bring nearly 100 million households into the middle- and affluent classes - those making more than 60,000 yuan ($9,000, 7,000 euros) per year. McKinsey & Co predicted that nearly 1 billion Chinese citizens will live in urban areas by 2025. These trends portend strong growth in aggregate consumption, as millions experience rising incomes and consumption shifts from the bare essentials to more discretionary items. This will likely have a tremendous impact on the pace and configuration of domestic economic growth, as well as the balance of international trade.
A good example of this theme in action is our recent investment in Haier Electronics Group (HEG), one of China's largest manufacturers of TV sets, washing machines and water heaters. The company is undergoing a transformation from a manufacturing-based business to one that is service-oriented with a focus on distribution, logistics and after-sale service. Our investment will support HEG's expansion of its service and distribution capabilities, particularly among third-party product distributors, and tap the growth potential in China's tier-3 and tier-4 markets. We expect to help deliver home appliances of multiple brands to more families, boost China's domestic consumption and improve people's quality of life, particularly in the remote western region and the vast countryside.
We have also worked in recent years to develop initiatives that target China's western and rural regions. We were the first global alternative asset manager to establish an office in Chengdu, the capital city of Southwest China's Sichuan province. An additional area of focus has been China's food supply chain, primarily in the dairy, fish and feed grain sectors. Our investment thesis is predicated on the belief that higher per capita incomes among Chinese citizens, especially within the expanding middle class, will increase demand for protein and higher quality food sources, particularly beef and seafood. These investments complement government policies that promote quality and safety. By helping these companies shift from small- to large-scale farming, both productivity and safety improves.
We have further executed this investment thesis via ownership stakes in Guangdong Yashili Group, C.P. Pokphand and China Fishery Group. Yashili is one of China's largest infant formula companies. We invested in the company in 2009 after the melamine crisis. Since then, we have worked with the company to install world-class management processes that improve safety and build trust with consumers.
We have also helped Yashili establish a food quality and safety advisory committee comprising experts from leading academic institutions and industry associations around the world. The committee works to ensure the safety and quality of Yashili products, provide strategic guidance to the board on policies and procedures, and introduce industry best practices in standards compliance and regulatory codes of conduct.
C.P. Pokphand is the second-largest commercial feed producer in China. Carlyle invested nearly $200 million in C.P. Pokphand in July 2010 to capitalize on the evolving feed market, in which commercial feed is displacing traditional methods of domestic production.
China Fishery Group is one of the world's largest industrial fishing companies. In July 2010, Carlyle acquired a significant stake in the company, which increasingly farms sustainable fish for distribution throughout Chinese markets. Since then, we have worked closely with management to establish a corporate social responsibility advisory committee focused on, among other initiatives, ensuring a level of sustainable supply that is in keeping with good environmental stewardship.
Carlyle is playing an active role in facilitating China's important and positive efforts to promote balanced and sustainable growth with an emphasis on internal consumption. To date, we have invested more than $3 billion in equity in more than 50 transactions across China.
As China continues its development, our commitment to investing in the country remains steadfast. By providing capital and adding value to fast-growing enterprises through our industry expertise and global network, we hope to drive productivity, expand capacity and keep costs lower for the consumer. We believe that this is the best strategy through which we can meet the rising demands of China's expanding middle class and facilitate the country's balanced and sustainable economic development.
The author is co-founder and managing director of The Carlyle Group. The opinions expressed in the article do not necessarily reflect those of China Daily.