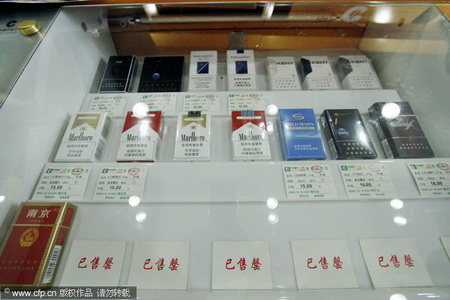 Several brands of cigarretes were sold out at a Nanjing tabacco shop with the expectation of  tax hike on Jan1, 2011. [Photo/CFP]
BEIJING-- Taxes and profits created by China's tobacco industry continue to surge in spite of the central government's inclusion of a public smoking ban in the 12th Five-Year Plan and tobacco control measures taken by some local authorities.
The industry paid 280.9 billion yuan ($43.6 billion) in taxes in the first half of this year, up 24 percent year-on-year, according to the State Tobacco Monopoly Administration (STMA) Thursday.
The profits and taxes created by the industry from January to June this year amounted to 408.3 billion yuan, an increase of 23 percent from the same period last year, while the industry's production and sales grew 3.9 percent and 4.3 percent respectively, according to the STMA.
The Chinese government made a public smoking ban one of its goals in its the Five-Year Plan (2011-2015) in March. Some Chinese cities have also been passing legislation to control second-hand smoke.
From 2006 to 2010, the taxes and profits created by the tobacco industry jumped 139 percent to 604.5 billion yuan with an annual growth rate of about 19 percent, said the STMA.