Gyms are increasingly popular with women feeling urban stress
BEIJING - How many ways are there for a woman to lose weight and stay fit? Bai Lingling has probably tried them all.
From expensive Hong Kong spas to traditional acupuncture treatment, from tasteless vegetable soup to cold yogurt, the 31-year-old manager at a financial firm in Beijing found it all resulted in near collapse at work.
"It was three weeks, nonstop, 15 hours a day," she said. "I suffered from over-weight, sleep deprivation and neck and waist pains. I grew more vulnerable and weaker. If someone at my office got flu, I caught it quickly but recovered slowly."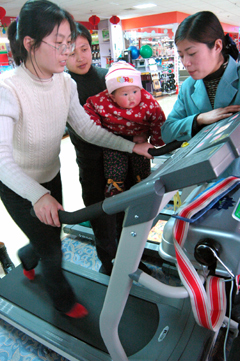 Accompanied by her husband and youngster, a woman tries out a jogging machine at a department store in Liaocheng, Shandong province. After the Spring Festival many Chinese women work on new-year fitness and cosmetic plans. A stronger sense of health consciousness nationwide, especially after the Beijing Olympics in 2008, is boosting the fitness equipment and cosmetic markets. [Photo / China Daily]
Responding to a friend's advice, Bai decided to go to the gym for a change.
She signed up for a swimming course with a personal trainer, at 200 yuan ($30) a class. The initial 12 sessions soon became six months. The result is obvious.
"I lost a lot of weight. An entire layer of my back was gone," Bai joked. "I am in much better spirits at work and did not catch a cold throughout this winter."
Urban white collar women like Bai reflect a huge rise in those joining health centers and gyms in first- and second-tier cities, thanks to a rising awareness of the importance of keeping fit and staying healthy.
Women account for more than 55 percent of gymnasium memberships, although the percentage was higher 10 years ago, said Zhang Lin, deputy director of club committee of China Bodybuilding and Fitness Association.
Most of the female members are aged from their 20s to their 40s. In comparison, men who go to gyms tend to be aged either in their 20s or are retired.
"Women are more sensitive about their figures and how they look. Furthermore, middle-aged women have more time and money to spend on fitness," Zhang said.
"Men in their 30s or 40s experience more pressure and responsibilities than females of the same age and have fewer opportunities to work out. Even when they try to find ways to relax, they prefer drinking, sauna and sleep. Very few of them come to the gym."
In addition to gyms, other exercises have gained popularity among urban career women, including belly dancing, pole dancing, badminton and table tennis. Going to parks or the countryside for walks are also popular if they are conveniently nearby.
However, fitness clubs are still by far the most popular sources of exercise for urban Chinese women, given their all-weather availability, safety, convenience and the existence of professional consultations, said Zhang, who founded CSI-Bally Total Fitness, the country's first joint-venture gym club. Group exercise classes, yoga and the lifting of barbells are the favorite activities of women at the gym, he said.
Health clubs are booming in China, not just in first-tier cities but also in second- and third-tier cities, thanks to growing economic wealth and increased personal incomes. The rising demand for quality of life also encourages people to pay attention to their health and lifestyle, Zhang said.
Two decades ago, when Zhang first started in the business, membership of a health club was considered a luxury.
"Going to the gym used to be just for rich people because the cost was very high," Zhang said. "But now, with the rapid expansion of the business, prices have come down relative to incomes, so many people can afford to give it a try. If you have not been to a gym yet, you are lagging behind the times."
Yan Hong, a 28-year-old public relations manager in Beijing, never seems to lose out in the fashion stakes. When she was a university student, she played volleyball and jogged three or four times a week. When she discovered most of her colleagues at the firm were members of the office gym, she also joined. Soon she was the most frequent attender.
Working out has become a habit. Usually, Yan spends one hour on the running machine in the morning around 8 am or on the yoga class after work.
"At first, it was a copy-cat move because you don't want to be left behind by other girls. Now I feel tremendous satisfaction from the intensity of the effort if I sweat from exhaustion," she said.
Gym clubs also serve as a place for networking or simply a place to hang out with friends or families for leisure.
Christine Wang, a purchasing manager at a pharmaceutical company, owns a 2,500 yuan gym card that offers a family membership free of charge.
Twice a week, Wang and her husband, who are in their 30s, meet at the club after work. The wife practices yoga and pilates while her husband exercises with free weights and dumbbells.
"My husband loves to show off his biceps and often brags about his strength. It makes me laugh," Wang joked. She also enjoys what has become a rare bonding moment with her husband in their busy days. More importantly, they consider the time spent in the gym a wise investment.
"We'd rather pay more on exercise than on medical bills," she said.
But despite the growing awareness of female urban dwellers on the importance of fitness and exercise, it is challenging to build up an habitual fitness regime.
"Getting exercise is like brushing your teeth. It is frustrating when you are tired. But if you have got used to brushing your teeth every night, you just have to do it," said Zhang.
His advice is to maintain an exercise routine for the first three months. In addition, choosing a fitness center that is close to home or workplace - 10 minutes distance maximum - will encourage repeat visits.
Thanks to the growth in the number of gyms, membership prices are falling. However, personnel costs, rent, water and electricity bills continue to rise, squeezing the profits razor-thin, Zhang said.
Nirvana Fitness & Spa, a high-end multi-city gym chain, suspended some operations in January this year. The move serves as an industry reminder that the business is no longer attracting investors and requires more regulations to encourage sound management, Zhang added.
A lack of regulations and standards means it is easy to enter the market.
Related readings:


Hitting the gym at home


China to crack down on substandard health foods


Experts pool ideas for spa industry growth in Fuzhou
It is the industry's responsibility to set up a standard price that can maintain the sustainability of the business as well as safeguarding the interests of the customers, said Wu Chenghan, executive director of the training department of Hosa China, one of the leading gym chains in the country, with 86 establishments in cities including Beijing, Shanghai, Chengdu and Zhengzhou.
"A gym club membership should be priced between 2,300 and 2,500 yuan a year, the bottom line for preventing rip-offs and enabling gym investors to survive," he said.
Wu added that the price, based on two visits a week, means each session costs about 25 yuan, the same as a fast-food meal in the city.
At present Hosa's membership costs around 1,600 to 1,900 yuan a year. But with property policies that push up rents in big cities, an ordinary gym in Beijing often pays 800,000 yuan a month. "Most of our operations were in profit last year. We closed down some that were not making money," Wu said.
Membership is currently the sole revenue generator for the gyms so diversifying is key to beating the competition. Wu said his company plans to introduce various new projects to increase revenue, including health checks, sports-related product meetings and presentations, to working with advertisers.