Huawei expecting its phones to grow smarter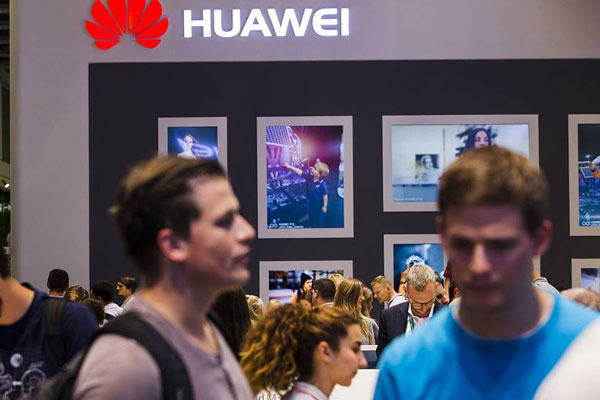 Visitors are attracted by products at Huawei stand at the International Funkausstellung (IFA) 2017, the world's leading trade show for consumer electronics and home appliances, in Berlin, Sep 2, 2017. [Photo/VCG]
Chinese telecom giant Huawei is banking on artificial intelligence technology to lead a revolution in the smartphone market that it hopes will help it become Europe's number one smartphone maker during the coming three-to-five years.
In London on Monday, Huawei released new research examining how AI technology might help European smartphone users with everyday issues. It was part of an effort to boost sales of its newly-launched Mate 10 Series of smartphones, which feature what it claims is the world's first AI computing system.
The research, a survey of 10,000 respondents from throughout Europe, revealed that smartphone users would like to seek help from their smartphones in everyday activities, such as taking better photos, finding new musical artists, learning new languages, and finding creative ways to use up food in their fridge.
"This research is incredibly valuable in helping us understand our consumers' needs," said Water Ji, president of Huawei Western Europe consumer business group. "We will share these findings with our research and development team, ensuring that our innovation is targeted."
The research, conducted in collaboration with the London School of Economics, also showed that the human brain is unaware of 99.74 percent of the decisions it makes, which Ji cited as further evidence that AI technology can help people "in every aspect of life".
In October, Huawei launched its Mate 10 and Mate 10 Pro phones, which run on Huawei's chipset Kirin 970.
"This will bring about a revolution," said Francisco Jeronimo, research director for European mobile devices at the market intelligence company IDC. "It means in the future smartphones will no longer just take instructions, but help smartphone users make decisions."
But for now, Huawei's Mate 10 phone series has only two tangible benefits: smart battery usage and the ability to take better photos.
Closely following on from Huawei's Mate 10 series launch, Apple also launched its latest model, iPhone X, which features a new all-screen design and offers facial recognition. iPhone X's entry model retails at 999 pounds($1,350) while the Mate 10 Pro costs 699 pounds.
Sale figures for Huawei's Mate 10 and for the iPhone X are not yet available. Last year, Huawei ranked as the world's third-largest smartphone maker, with 139 million smartphones sold worldwide, putting it behind Apple and Samsung.