Scalpers make merry as demand for Huawei high-end model soars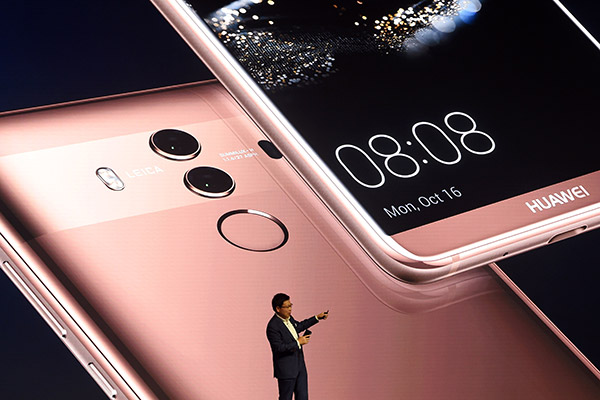 Richard Yu, CEO of Huawei Consumer Business Group, unveils the Huawei Mate 10 high-end smartphone in Munich, Germany, last month. [Photo/Agencies]
Scalpers who expected to rake in huge profits from the sale of Apple's iPhone X may think twice as prices of Huawei Technologies new ultra-high-end smartphone soared to dizzying heights as of Wednesday and made it one of the most expensive models on sale in the country.
Prices for the Chinese company's Porsche Design Huawei Mate 10, priced at 8,999 yuan ($1,360), rose to around 20,000 yuan ($3,023) in the country's leading online platforms of JD.com and Taobao.com, with the highest price peaking at 26,999 yuan.
In comparison, the price of its rival iPhone X on e-commerce websites was roughly similar or even lower than its official price tag.
A Beijing-based retailer on Taobao.com, who sells Porsche Design Huawei Mate 10 at a price of 18,500 yuan, said that the high price is due to the limited supplies of the device. "A lot of people have made enquires, but very few have made the purchases," he added.
Since it became available in the Chinese mainland on Nov 15, Huawei has sold only a limited number of its ultra-high-end handset on its official online website at 10:08 am every Monday, Wednesday and Friday.
Chen Bo, a 38-year-old teacher, said that he failed to buy one from the official website even though he tried to buy after it opened for sales.
"I tried three times and it turned out that the type of phones were sold out within seconds. Jokingly speaking, it is harder to buy a Porsche Design Mate 10 than a Porsche," he said.
With a diamond black appearance and a custom Porsche Design interface, the 256-GB handset, as part of Mate 10 series, is targeted mainly at high-end consumers. It also boasts a slate of fancy artificial intelligence features such as intelligent photography.
"The ultimate reason is that there is an acute shortage of the Porsche Design Huawei Mate 10 handsets. The device uses an active-matrix organic light-emitting diode display screen from Samsung Electronics Co Ltd. The short supply of such screens may pose challenges for Huawei as it tries to catch up with the top smartphone firms," said Jia Mo, an analyst at market research company Canalys.
Unveiled just a few weeks before the much-expected shipment date of Apple's iPhone X, Mate 10 series marks the company's efforts to challenge Apple in the premium segment.
"Given that the competition has just started, it does not mean that the Porsche Design Huawei Mate 10 will sell better than the iPhone X in the fourth quarter," he added.