Honor unveiled new AI smartphone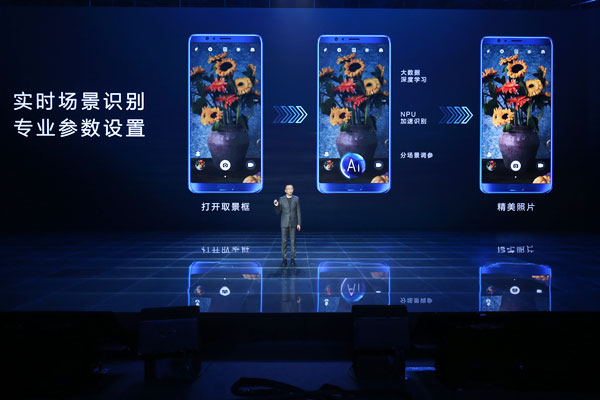 Zhao Ming, president of Honor, a smartphone brand of Huawei Technologies, unveiles AI-enabled smartphone V10 in Beijing, Nov 28, 2017. [Photo provided to chinadaily.com.cn]
Honor, a smartphone brand of Huawei Technologies, has unveiled a new artificial intelligence handset to tap into consumers' growing demands for intelligent services amid mounting competitions from domestic rivals.
The new gadget called V10 is equipped with Huawei's first AI-enabled chipset Kirin 970, and a 5.99-inch full-display screen. It came at a time when AI is seen as one of the key areas for players to stand out from a crowded market, where handsets look increasingly similar in both design and services.
Zhao Ming, president of the Honor brand, said companies usually upgrade smartphones by constantly improving the processing speed of the hardware and optimizing software. But the approach is starting to hit a bottleneck.
"AI offers a new direction, which can help smartphones understand users and then optimize services in response to consumers' specific needs," Zhao said.
According to him, AI-enabled smartphones can help narrow the capability gap between ordinary people and professionals. For instance, V10's cameras can identify 13 types of objects, such as people and plants, when being photographed, and can adjust settings such as correction filters in accordance with the surrounding environment. This can help people shoot better pictures, even though they don't have professional knowledge about photography.
Starting from 2,699 yuan ($409) in China, V10 is also designed to better meet gaming enthusiasts' demands by enabling faster operational speeds.
Kirin 970 is the first AI-enabled chipset unveiled by Huawei. It is powered by an 8-core CPU and a new generation 12-core GPU. Built using a 10-nanometer manufacturing process, the chipset packs 5.5 billion transistors into an area of only 1 square centimeter.
The Mate 10 series, Huawei's flagship smartphones which were launched in October in China, are also equipped with the Kirin 970 chip.