Huawei launches Mate 10 series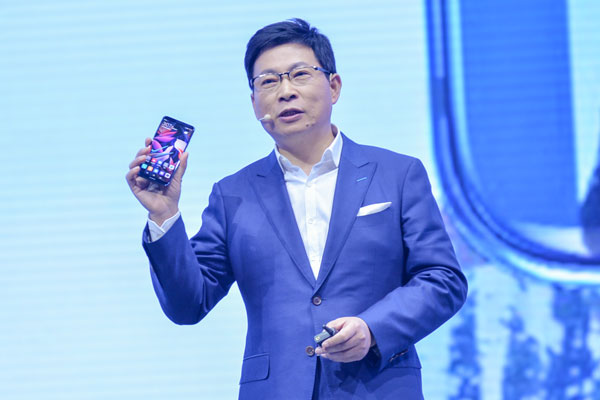 Yu Chengdong, CEO of Huawei consumer business group, unveils Mate 10 in Shanghai on Friday. [Photo provided to China Daily]
Huawei Technologies Co Ltd unveiled its latest handsets Mate 10 series in China on Friday, as the smartphone vendor aims to challenge Apple Inc in the premium segment.
The new devices, powered by its artificial intelligence Kirin 970 chips, came after Huawei recorded a 19 percent year-on-year growth in shipments in the first three quarters of this year.
Starting from 3,899 yuan ($589) in China, Mate 10's cameras can identify 13 sorts of objects, such as people and plants, when being photographed, and can adjust the settings such as correction filters in accordance with the surrounding environment.
Yu Chengdong, CEO of Huawei's consumer business group, said the company has shipped over 10 million units of Mate 9 smartphones in the past 11 months, showing that the Shenzhen-based company has expanded presence in the top-tier market.
"Mate 10 series boast improved photo-taking capabilities and can deliver real-time translation services," Yu added.
According to him, the company has shipped 112 million units of smartphones in the first nine months of this year, which help it record over 30 percent year-on-year jump in revenue.
Kirin 970 is the first AI-enabled chipset unveiled by Huawei. It is powered by an 8-core CPU and a new generation 12-core GPU. Built using a 10 nano-meter manufacturing process, the chipset packs 5.5 billion transistors into an area of only one square centimeter.
It helps Huawei cope with the falling performance of Android systems, which has been seen as a bottleneck for years. The company said Mate 10 can run smoothly for a far longer time than its previous handsets.
Huawei's new handset came just a few weeks before the much-expected shipment date of Apple's iPhone X, which also boasts a slate of fancy AI features such as using face recognition to unlock smartphones. In comparison, Huawei sticks to finger recognition technology with Mate 10.
According to the latest research by consultancy Counterpoint Research, Huawei has overtaken Apple in global smartphone sales consistently in June and July.