Baidu bets it's got upper hand in self-driving race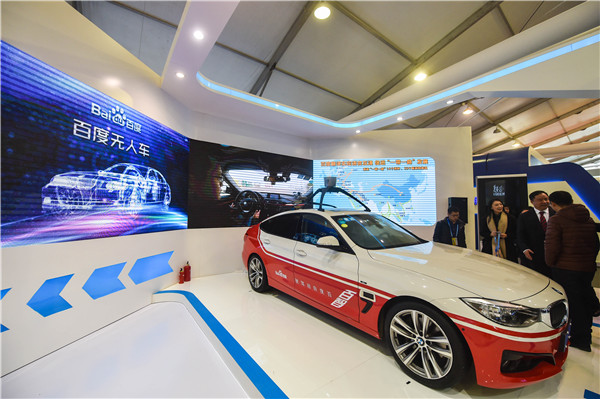 A driverless vehicle developed by the internet giant Baidu on display in December at an exposition in Wuzhen, Zhejiang province.[Photo/China Daily]
Baidu Inc expects to have the edge in autonomous driving after years of running China's biggest search engine, arming it with expertise in machine learning and mapping.
The internet giant is sticking to a plan to have self-driving cars ply China's roads by 2018, then mass production by 2020. The company will focus on its home market despite road conditions there being much more complex than in developed countries, Chief Financial Officer Jennifer Li told the Bloomberg Markets Most Influential Summit in Hong Kong.
Baidu is banking on artificial intelligence and automobiles to provide much-needed engines for growth as its search business decelerates. This year, it's expected to post its slowest pace of revenue growth since going public, as Tencent Holdings Ltd and Alibaba Group Holding Ltd draw advertisers away. Baidu however hasn't outlined a business plan for AI.
"AI, it's a technology. And technology itself, until you put it into real applications, into real businesses where it can really transform industries, it's not really of real business value," Li said during an onstage interview. But she predicted "many new business opportunities are going to come out of these core competencies."
Like Google Inc, Baidu believes it has advantages in AI that can be used to develop driverless technology, such as internet services that adapt to each user and computers that think and respond like humans. The Chinese company has won approval to test its self-driving technology in California, becoming the 15th company to get permission. And it's also partnered with chipmaker Nvidia Corp to develop the necessary technology.
Delving into new areas will be key as its advertising machine peters out. Research firm eMarketer predicted Baidu would fall behind Alibaba in terms of ad revenue this year, thanks in part to a series of well-publicized scandals and increased government regulations.
In July, the company warned investors that restrictions on internet advertising would hurt revenue growth for the next two to three quarters and it forecast lower-than-expected sales of 18.04 billion ($2.7 billion) to 18.58 billion yuan in the third quarter.
That came as the government implemented rules to limit the number of ads that can be displayed on each page. Baidu is also expecting slower customer growth as it rechecks the credentials of advertisers to ensure their businesses are legitimate.
Bloomberg