Smartwatch sales drop by 52% in Q3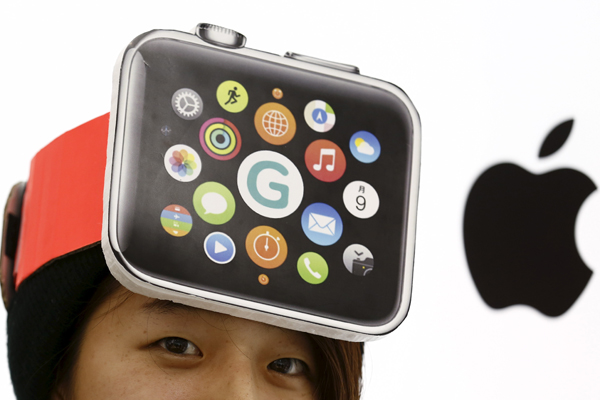 A woman wearing a mock-up of an Apple Watch stands in front of an Apple logo at an electronics store in Tokyo. [Photo/Reuters]
Worldwide smartwatch sales dropped 51.6 percent year-on-year in the third quarter of 2016, hit by limited availability of Apple Inc's Series 2 during the period and a general falloff in sales, according to a report by research firm International Data Corporation on Monday.
The research consultancy said total shipments of smartwatches were 2.7 million units in the third quarter, down from the 5.6 million units shipped in the same period last year.
IDC said Apple's first-generation smartwatch became widely available, after a limited online launch, in the third quarter last year. But its second-generation watch was only available for sale in the last two weeks of the latest third quarter, so shipments did not fully boost the numbers.
Apple maintained its lead position in the worldwide smartwatch market and shipped 1.1 million devices in the third quarter. But its market share tumbled to 41.3 percent from 70.2 percent, as sales fell nearly 72 percent year-on-year.
Garmin posted the sharpest rise among the smartwatch manufacturers, with sales rocketing 324 percent.
"The sharp decline in smartwatch shipment volumes reflects the way platforms and vendors are realigning," said Ramon Llamas, research manager for IDC's wearables team.
With no new smartwatches available for most of the third quarter, vendors were left to sell older, aging devices to satisfy customers, the analyst said.
Lenovo Group suffered the biggest year-on-year sales decline among the leading vendors, with multiple channels selling out of Moto 360 devices and a scarcity developing of its recently released Moto 360 Sport smartwatch.
"It has also become evident that at present smartwatches are not for everyone," said Jitesh Ubrani, senior research analyst at IDC Mobile Device Trackers.