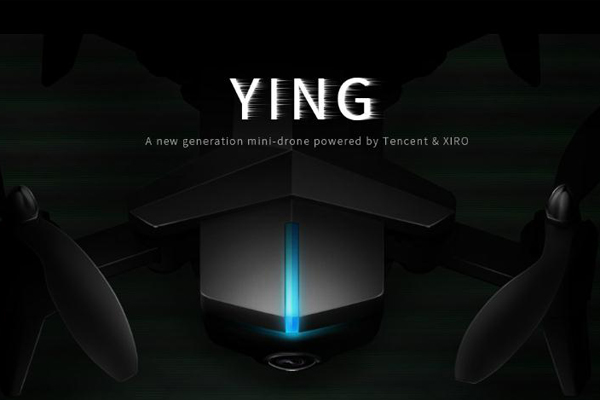 The poster of Tencent's Ying drone is displayed on its official website. [Photo/xirodrone.com]
Chinese internet giant Tencent Holdings Ltd is set to launch a drone that could enable users to share live streaming video directly through WeChat, its instant messaging app, as it enters the burgeoning consumer drone market.
The Ying drone, coproduced by Tencent and drone maker ZeroTech Intelligence Technology Co Ltd, is now available for preorder on its website and is expected to be officially released at the end of this month.
Priced at $299, the 425-gram drone has a 13 megapixel camera and can shoot video at 4K resolution. It can fold up neatly to be carried in a bag.
Its app could synchronize photos to the user's phone, enabling easy sharing of photos or videos with family and friends on WeChat. It also features WeChat's video-calling function.
The drone, which was unveiled earlier this year at the Consumer Electronics Show in Las Vegas, is equipped with the Qualcomm Snapdragon Flight chipset.
It is cheaper than both the recently unveiled DJI Innovation Technology Co's foldable drone Mavic Pro, which is priced at $999, and the $799 Karma launched by with US action camera manufacturer GoPro Inc.
Founded in 2007, Beijing-based drone manufacturer ZeroTech, which claims to provide technology solution plans for the Ying drone, in May unveiled its pocketable drone Dobby that specifically focuses on photography.
"The Ying drone, which centers on video-sharing and social networking, might attract ordinary people trying to use an inexpensive drone to shoot for the first time, while photography enthusiasts are the dominant users of the DJI," said Zhao Ziming, an analyst at internet constancy Analysys.
Zhao said Tencent's newly launched drone will not pose a threat to the DJI, which accounts for around 70 percent of the world's consumer drone market, and gained an upper hand in terms of both technology and capital.
"The drone is expected to boost sales in the low and medium-end drone market. Moreover, it may drive more internet companies to tap into the competitive drone industry. High-end drones will add social networking functions."
The value of China's drone industry could reach 75 billion yuan ($11.1 billion) by 2025, according to a report by Beijing-based iResearch Consulting Group.