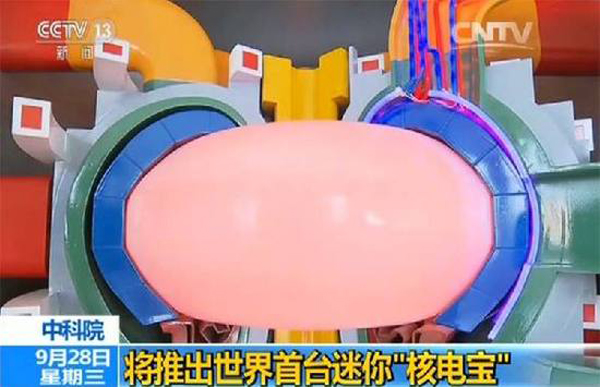 The photo shows a screenshot of the mini reactor dubbed "portable nuclear battery pack" from CCTV news on September 28. [Photo/en.people.cn]
A top mainland research institute is reportedly developing the world's smallest nuclear power plant, South China Morning Post reports.
It said that the nuclear plant under development could fit inside a shipping container measuring about 6.1 meters long and 2.6 meters high.
It would be able to generate 10 megawatts of heat, and if converted into electricity wouldbe enough to power some 50,000 households, according to the paper.
The nuclear plant is also capable of running for years or even decades without refueling,and scientists say that because it produces neither dust nor smoke, even on a small island aresident would hardly notice its existence.
The report says that the micro power plant might be installed on islands in the South China Sea in the near future.
Professor Huang Qunying, a nuclear scientist involved in the research, said their ultimategoal was to benefit civilian users in the South China Morning Post report.
Another researcher is hoping they could complete a small-sized nuclear reactor within 5years, says the report.