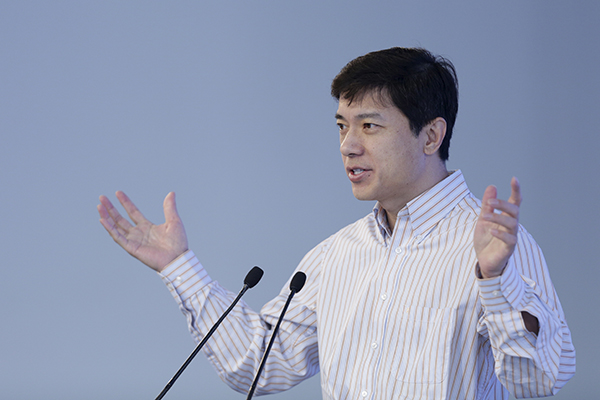 Baidu Inc Chairman and Chief Executive Officer Robin Li speaks during a conference in Wuzhen, Zhejiang province. [Photo/Agencies]
Baidu Inc said on Tuesday that it has launched its first venture capital firm focusing on artificial intelligence-the Chinese online search behemoth's latest effort to stake out a spot in the burgeoning technology field.
Called Baidu Venture, the new company will focus on early-stage projects in artificial intelligence and other next-generation technologies, such as augmented reality and virtual reality, according to a statement from Nasdaq-listed Baidu.
Robin Li, Baidu's chief executive officer, is the chairman of the venture capital firm. For its first stage, the firm is equipped with an initial investment fund of $200 million.
Baidu said in its statement that the company would be an independent entity, separate from the company's existing investment and acquisition team, so that it could "use an innovative evaluation mechanism to speed up the decision-making process and make investments more efficient."
The move is seen by industry observers as the Beijing-based Baidu's latest effort to grow its artificial intelligence expertise, to jumpstart a slowing search and advertising business, which is constrained by tighter government control on online advertising.
Lu Zhenwang, an internet expert and the chief executive officer of the Shanghai-based Wanqing Consultancy, said Baidu urgently needs to find a new engine to cope with the slowing momentum of its traditional search business.
Baidu's net income for the quarter ending June 30 was 2.4 billion yuan ($359 million), down 34.1 percent year-on-year, as the company faced heightened regulation in the healthcare sector and on internet advertising.
Zhao Ziming, an analyst at Beijing-based internet constancy Analysys, said that by setting up the venture capital firm Baidu could more quickly "absorb" startups into its AI business and expand its presence in the entire industrial chain of AI.
"The move is expected to enable Baidu to gain some strong advantage in the AI competition," he said.
Robin Li has in previous occasions pledged to shift the company's business from a search-oriented model to one based on artificial intelligence. In the recent Baidu World Conference, which is the company's annual biggest event to showcase its latest technology, Li again stressed the importance of AI.
"Artificial intelligence is the next big development in the internet industry, which is the core of Baidu. We have made a great effort in developing this technology over the past five to six years," he said.
Many of the areas Baidu is betting on, such as driverless car and Duer, a Siri-like voice assistant, all depend on the development of AI.