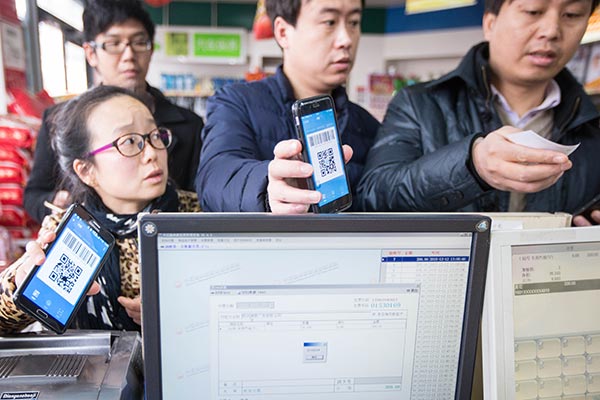 Bargain-hunters flash the Alipay Wallet QR codes on their smartphones at a Hangzhou supermarket checkout to claim a 10 percent discount on their shopping. [Photo provided to China Daily]
China's biggest online third-party payment platform Alipay, which has 450 million active users, is expanding into Europe, signing deals with brick-and-mortar retailers to enable Chinese consumers abroad to use the app to make payments in stores, according to a report by Bloomberg.
The mobile payment service is expected to be offered to Chinese travelers and expats in France, the UK, Germany and Italy.
Alipay has held talks with French department store Printemps, set a deal with French insurance agency Axa Group to sell travel insurance to Alipay's users, and is working with German banking software company Wirecard AG to support its mobile payment service in 69 stores at Munich Airport, said Rita Liu, head of Alipay Europe, Middle-East and Africa, according to Bloomberg.
"We're actively looking for partners across Europe -- merchants who want to cater to Chinese tourists or technical providers on the payments side. But we have no plans to target European customers," Liu said.
Spending $875 per capita, around 120 million Chinese tourists travelled abroad last year, according to the China Tourism Research Institute. And their favorite travel destinations outside Asia are France, Italy, Switzerland and Germany.
Sabrina Peng, president of Alipay International, said at this April's Money 20/20 Europe a conference held in Copenhagen, Denmark that as a lot of Chinese people enjoyed the lifestyle of going out with Alipay rather than a wallet, Alipay has been thinking of bringing the same service to them when they traveled abroad, according to a report by nfcworld.com.
Peng said Alipay processed 175 million transactions a day, of which more than 60 percent were made through a mobile device.
China's third-party mobile payment market reached a value of ten trillion yuan in 2015, according to a report by French market research firm Ipsos Group Co. Alipay's rival WeChat Pay announced it would fully open to overseas retailers last November, according to a report by Beijing Business Today. Dozens of foreign institutions, including Australia's RoyalPay, have joined WeChat Pay's cross-border payment open system, covering more than 20 countries and regions.
Run by Ant Financial, an affiliate of Alibaba Group holding Ltd, Alipay is leading China's mobile payment market with 63.41 percent of the market share in Q1 this year, according to a report by Chinese research firm Analysys.