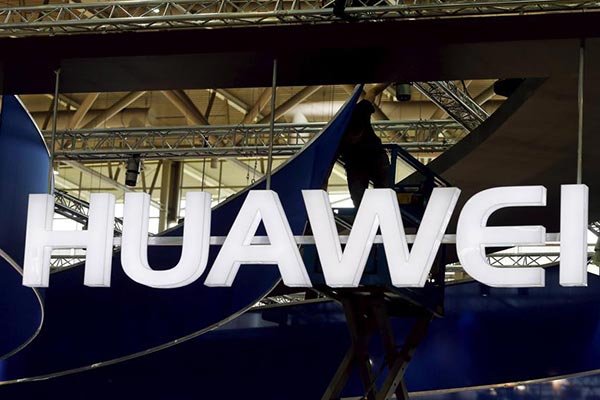 A worker adjusts the logo at the stand of Huawei at the CeBIT trade fair in Hanover, March 15, 2015.[Photo/Agencies]
Huawei Technologies Co Ltd's intensified efforts to safeguard its patents highlight the Chinese tech giant's desire to crack the US market, which the Shenzhen-based company must conquer to fulfill its ambition to be the world's biggest smartphone vendor, experts said.
Huawei confirmed last week it had filed patent infringement lawsuits against rival Samsung Electronics Co in two courts in China.
The news came shortly after the Chinese telecom equipment maker filed a patent suit against US telecom operator T-Mobile US Inc.
Di Jin, a researcher at International Data Corp, said as China's smartphone market slows down, the country's handset makers are stepping up efforts to build up their overseas presence.
"A strong patent portfolio is key to rapid international expansion. For Huawei which has poured millions of dollars into research and development, taking Samsung to court can boost its international brand image," Di said.
Huawei's consumer electronics unit has quickly evolved into the world's third biggest smartphone vendor. The company said earlier this year it wants to beat Samsung and Apple Inc within the next five years to top the global ranking of handset makers.
But industry observers say it will be impossible to realize the goal if Huawei can't expand its presence in the US, the global hub of innovation and the world's most competitive market.
"Patent disputes can accelerate the process. The lawsuit against T-Mobile can give Huawei a bigger say in local partnerships, " said Xiang Ligang, a telecom veteran and CEO of the industry website cctime.com.
Data from IDC shows that Huawei shipped about 27.5 million smartphones in the first quarter of this year, far less than Apple's 51. 2 million units and Samsung's 81.9 million units.
But the Chinese company managed a robust growth rate of 58 percent, while Apple saw a sharp decline and Samsung's sales remained roughly flat.
"Huawei is rolling out innovative products. Though national security concerns will make it difficult to quickly build a strong foothold in the US, filing patent lawsuits against arch rivals can help boost Huawei's influence among consumers," Xiang added.