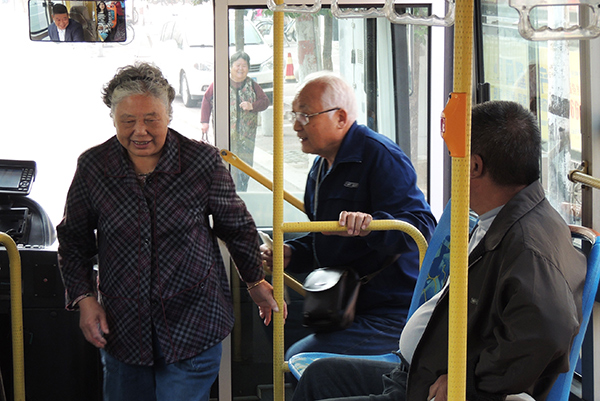 Senior people constitute the majority of passengers in public buses in Nanjing, Jiangsu province. [Geng Yuhe/For China Daily]

Old citizens receive life-transforming digital help via govt information program
These days, when people over 80 in Beijing take a bus, see a doctor or spend money, their activities are digitally tracked by the government, as part of an effort to improve services for the country's rapidly growing elderly population.
The data amassed with each swipe of the multi-purpose "Beijing Connect" old person's card goes into a massive database of the elderly in the capital. City authorities hope the information will enable them to better cope with their burgeoning population of over-60s, which already stands at 3 million.
Though geared toward the elderly, the program demonstrates how China more broadly is using big data to better direct the use of government resources for the country's 1.4 billion people. Beijing's strategy is to use new technology and internet to innovate and propel China's transformation to a services-based economy-a strategy that Premier Li Keqiang has said "will trigger a new Industrial Revolution."
In a sophisticated example, Beijing municipal government is collecting the disparate data on the elderly in order to predict what services will be needed in the future. This is to make sure it has the necessary budget and services in place, by taking into account people's decreasing mobility, for example, said Bai Qiang, vice president of the Beijing Community Service Association, a city government agency.
"All of the data we are collecting now, including visits to parks, the use of public transport and (numbers of) shopping trips, will help us to predict whether the elderly will become disabled in the future," Bai said.
The thinking is that if an elderly man is paying fewer visits to parks or taking buses less, that will show up in the data. The government can then judge what the disability rate will be in the future and prepare a budget plan in advance, Bai said.
Cardholders interviewed said they weren't concerned about a loss of privacy and praised the program as far more convenient than the coupons the government used to give them for the same services.
"I've no worries. Elderly people don't have any secrets," said Liu Huizhen, 84, who was using her card to buy steamed bread in a small supermarket.
"It's hard for elderly people to count coin-by-coin," Liu said. "And when you take the bus you just swipe the card, it's very simple and convenient."
The State Council issued a plan to promote big data in August, calling for the accessing and sharing of government data to improve governance. In response, the southern province of Guangdong on April 25 announced a strategy promoting the collection and use of big data. Areas targeted included: the integration of air and water monitoring information with pollution forecasting; the creation of electronic medical records; and the sharing of information on tourists traveling to scenic spots, to better manage traffic.
The Guangdong plan also called for the collection of population data on the elderly and a "comprehensive analysis" of their service needs, similar to what Beijing is now offering.
While China is still behind countries such as the United States, Britain and Germany in terms of the development of big data infrastructure, it is unique in its commitment to the project and the speed with which it is progressing, said Zhang Yue, managing director of The Boston Consulting Group in China.
Although China's national and local governments, ministries and departments are the owners of a large quantity of financial, residential and other data, they have yet to share the information among themselves, Zhang said.
"The government has realized that if they want to really take full advantage of (what is in) their possession they need to integrate those, otherwise the value of the data is quite limited," she added.
However, none of those efforts are as wide-ranging and integrated as Beijing's own multi-purpose card, which is slated to be expanded to cover the nearly 20 million people aged 60 and older who live in Beijing and the neighboring regions of Hebei and Tianjin city by the end of 2018.
The card functions as ID and gives free access to public transport and public parks. The government also tops up the card with 100 yuan ($15) each month, and cardholders can activate an additional function to enable them to use it as a bank card onto which money can be transferred from an account.
Rogier Creemers, who researches China's governance of technology at the University of Oxford, said China is a world leader in the degree to which it is integrating such functions.
"What allows China to do something like this is the fact that behind everything you have a single unified network of power, which is the Chinese Communist Party," Creemers said.
Some cities, like Nanjing, have social security cards with an e-payment function that can be used for public transport and medical treatment and are available to all residents, not just the elderly. Shanghai, China's most populous city, has just introduced a card for people 65 and over. It distributes government subsidies, offers discounts in restaurants and free rides on public transport and can also be used as a bank card.
"What we are doing is not monitoring, but collecting the data," he said. "All the data we collect aims to enable the government to provide better services to the elderly. For example, if we detected that a type of service was in great demand, we would get in touch with the relevant companies to request a discount."