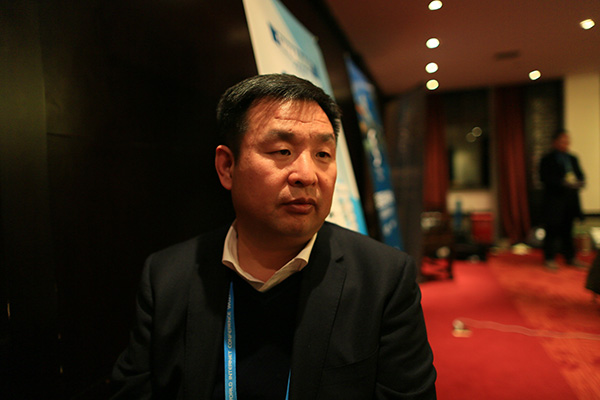 Wang Sicong, CEO of Beijing Eloan Ltd, speaks to media during the World Internet Conference in Wuzhen, Zhejiang province, Dec 16, 2015. [Wang Chengmeng/chinadaily.com.cn]
A company, which has received investment from Legend Holdings, eyes to become the "Uber" in peer-to-peer (P2P) lending sector and win an upper hand with a deep understanding of the circle culture behind China's rural regions.
Just as bigwigs, including BAT, foray into the Internet finance sector while some small players exit, Beijing Eloan Ltd announced its transaction volume is about to eclipse 20 billion yuan, with 95 percent flowing to rural areas.
The P2P lender has recently caught spotlight not only for its membership position in Legend Holdings, but also for its franchising model.
"We see ourselves as a sharing platform like Uber. Eloan has about 1,600 local partners who manage and oversee lending in their township," Wang Sicong, the chairman, said to China Daily website on Wednesday during the World Internet Conference in Wuzhen, Zhejiang province.
The 8-year-old company channels small credit to farmers for planting, breeding and small businesses, with an interest rate ranging from 10 to 18 percent.
Born in less-developed outskirt in Baoding, the 51-year-old CEO said financing in countryside is very different from that in cities. "Farmers in China have little collateral as they don't have the ownership of the land. Before the launch of favorable policies to rural areas, it was even harder for farmers to get loans."
Using circle culture to reduce risk
Eloan requires borrowers to have a sponsor family as guarantee, said Wang in response to risk controls. "Chinese are concerned about their face-saving, which is why it turned out an effective check."
He added that the company also asks borrowers to record a two-minute introductory video.
"Most franchise partners are within half-an-hour drive to borrowers. They will have a good knowledge about them just by picking up the phone," said Wang.
The model puts local franchise at the center of profit as well as risk taking. According to the company, local partners keep 80 percent of profits and take full redemption responsibility, while Eloan takes 20 percent.
Partners, required to put down 600,000 yuan deposit, can lend 30 times of that amount, said Wang. "They have to be local, with considerable financial knowledge, and have good connections in the region."
According to Eloan, the payment rate among local franchises is about 3 percent, while the final bad loan ratio is no more than 1.5 percent.
Wang confided that there were times of difficulty before last year. "Risk control needs practice wisdom and the accumulation of data analysis."
Joining the elite team
The P2P lender entered into the "marriage" with Legend at the end of 2014 after a-year-long communications.
"They came to us first when our transaction volume was only 30,000 yuan," said the CEO, adding that Legend saw the deal as a strategic investment, other than a financial one.
"We may be grassroots before, but now we are part of the elite team," said Wang.
Legend is not yet a majority shareholder as the deal divides into several steps, but the CEO said he wouldn't mind and hope the same. "Internet finance needs elite titles, as investors are sensitive to brand and shareholding structure of the P2P platform when real money is involved."
The company seeks to expand its footprint globally in the next step, said Wang, targeting South East Asia as the first stop.