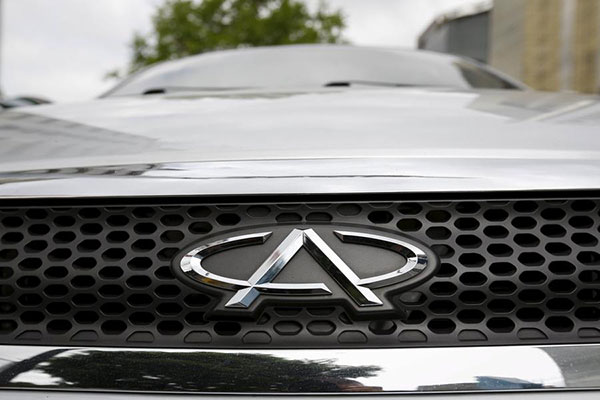 Chery's corporate logo is seen in a car at a service center in Caracas May 25, 2015.[Photo/Agencies]
HEFEI - Chery Automobile has become the first Chinese automaker to have produced five million cars.
The five millionth, Chery's best-selling model Arrizo5, rolling off a production line on Friday capped a good year for the company in defiance of a market downturn.
Chery sold 50,540 vehicles in November, up 22.9 percent year on year. Its sales hit 252,439 in the first six months of 2015, up 17 percent from the same period last year.
China's total car sales rose only 1.4 percent in the first half.
Chery was founded in Wuhu of East China's Anhui province in 1997. It took 10 years to produce its first million cars.
Over its history, the company has invested 30 billion yuan ($4.6 billion) in research and development, and has applied 7,308 national patents. It independently produces new-energy cars, engines and gearboxes.
It is now looking to the future as Chinese carmakers become less reliant on foreign partners and try to break into foreign markets.
"The next five years are a period of prime opportunity for Chinese automakers, as Internet technology combined with new energy solutions will bring a reshuffle to the world's auto industry," said Chery Ceo Yin Tongyue.
A joint venture between Chery and the UK's Jaguar Land Rover produces Chery's self-developed models as well as China-made Land Rovers.
Chery has exported over 1.2 million vehicles to more than 80 countries and regions.