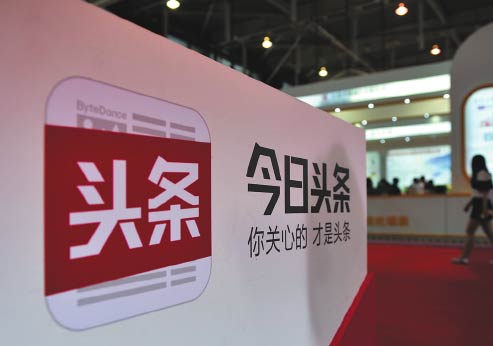 Toutiao, a popular news app, provides valuable and personalized information for users in China.[Provided to China Daily]
Since its launch in August 2012, the Toutiao smartphone app has gained 350 million users in China, with that number continuing to rise. Its average daily active user number is 35 million-just a few million less than the entire population of California.
The personalized news app allows users not only to read news, but also to browse pictures and watch videos.
Each user spends 53 minutes on the site each day on average, second only to social media platform WeChat, and longer than on most mobile games.
The app is a content ecosystem, which provides a publishing platform for individuals and institutions. It has more than 41,000 accounts, including media, organizations, government departments and We Media.
Some of the company's competitors call the app a "virus" because of how fast it has expanded over the years.
Zhang Yiming, founder and CEO of ByteDance, the developer of Toutiao, graduated in 2005 from Nankai University in Tianjin. "I had enough time to read books during my four years in the university," he recalled.
"Nankai's library bought many of the best English books from all over the world. The reading helped me think in long terms."
He worked in Microsoft for a short period but quit because the job was "boring".
From then on, "business starter" has been his label. He started many companies, including Fanfou, a microblog website, and 99fang.com, a real estate searching site.
It was Steven Jobs that changed his life, he said.
In 2007, Jobs opened up a new era of mobile Internet worldwide, which made Zhang shift his eyes on the surging market of smartphones.
In early 2012, Zhang scribbled his ideas on a napkin and showed them to his first investor. He did not have to wait long to get the investment.
The company has more than 1,200 employees, over one third of whom are engineers.
Zhang found that the competition for news apps was severe, but most of his competitors pushed the same content to their users. Zhang decided to tailor-make content for his users.
Toutiao stands out among many news apps because it can remember the users' clicks, comments and reposts, as well as how long they stay on each page, to find their interests, and pushes different news to different users based on those interests. "Personalized information recommendations are possible," Zhang said.
"You cannot travel around the world carrying a computer, but you can always have your smartphone with you all day long, which means your smartphone will get to know your preferences." Product manager Shen Zhenyu compares using the app to training a dog. "It grows from a program that knows nothing to a friend that knows well what you like and dislike."
Personalized information
The system is made up of about 6,000 servers that process a total of 200 TB of data a day. "The advantage of the machine is that its memory is good and precise and it never gets tired, but the human brain has its advantage in cross-field judgement," Zhang said. "The key to artificial intelligence is human. To let technology play an active role in the flow of information, one premise is that there must be someone producing valuable information, so we encourage more information sources to open accounts on Toutiao and welcome local governments to access it, using it as a platform for publicizing government affairs."
"We have established partnerships with many authorities, including governmental organizations, to increase the spread of authorized information," Zhang said. "For example, we confirm every piece of medical news with the hospital concerned or the health department."
Success factors
The name of the company suggests something different from a traditional business, said Lin Chufang, the company's vice-president responsible for marketing.
"Byte is the common language of Zhang and Larry Page, Elon Musk and Mark Zuckerberg," Lin said. "The previous generation's entrepreneurs did not need to know what 'byte' means. "What the new generation of entrepreneurs think about most is not how to get their first bucket of gold, but how to use new technologies and new models to help their users," he said.
Baidu, Alibaba and Tencent, three of China's IT giants collectively known as BAT, have become a phenomenon in the nation's Internet field. An article by Chinese independent think tank Trigger Trend earlier this year said Toutiao may become one of the "next BAT", along with Meituan, a group purchasing site, and Didi, a car-hailing platform.
Investment in technical innovation, talent pool and growth curve are some of the reasons given by the think tank.
However, Zhang said the decisive elements of the company also include "patience, courage and the ability to resist temptation and avoid vital mistakes".
In an interview with Chengdu Economic Daily, Zhang said his living cost is less than 3,000 yuan per month. "I am not interested in luxury goods, watches, cars, cigarettes or wine. What accounts to me is self-realization."