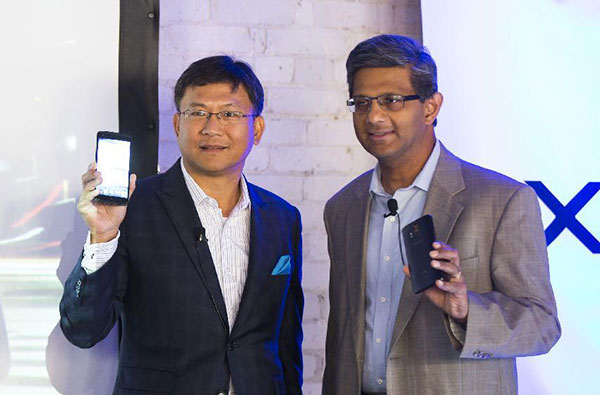 Raj Doshi, executive vice president of Canadian Wireless Consumer Services of Rogers Communications, and Cheng Lixin, chairman and CEO of ZTE USA, showcase new AXON smartphones during the phone's official launch ceremony in Toronto, Oct 27, 2015.[Photo/Xinhua]
TORONTO - ZTE, the fourth-largest smartphone supplier in North America, teamed up with Rogers Communications in launching smartphone ZTE Axon, its first premium device released in Canada on Tuesday.
With a display of 5.5" IPS LCD, HiFi audio chipsets, dual lens and dual flash for better picture capture, Axon is a tailor-made for the customers in North America, according to Denson Xu, CEO of ZTE Canada.
Available at Fido for C$0 on a two-year premium plan term (Fido's Smart or Max Plans), C$100 on a two-year standard plan term or C$400 without a contract, ZTE Axon delivers the highest value among premium smartphones available in Canada on Nov 6, said Raj Doshi, executive VP of wireless consumer services of Rogers Communications.
"It is a very value rich capable device, for the price also a very strong reference for customers, we are excited that we will meet up with a lot of customer demand in a price value proportion that will match up to their needs," Doshi told Xinhua.
"With 44 percent of Canadian smartphones running Google's Android platform, the Canadian market is an increasingly important one for ZTE's global success," said Cheng Lixin, chairman and CEO of ZTE North America. "Celebrating 10 years in Canada, ZTE is excited to continue to offer Canadians choices when looking for a premium device at an affordable price."
"One of the biggest advantages from our carrier customers is that we listen. We do enough of consumer feedback and surveys. Listening to our carrier customers is a tremendous advantage for ZTE," said Jeff Yee, VP of technology planning & partners of ZTE North America.
Operating since March 2005 and headquartered in Toronto, ZTE Canada Inc. is a subsidiary of ZTE Corporation, China's largest listed telecom equipment company. In North America, ZTE is the fourth-largest supplier of smartphones and handset vendors and the second largest vendor in the pre-paid market.