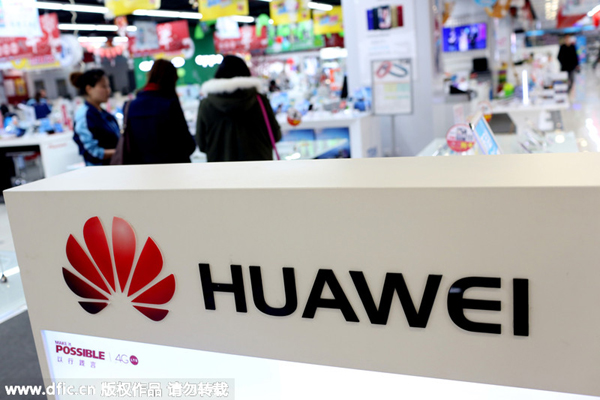 A counter of Huawei is seen at an electronic products market in Shanghai, Feb 17, 2015. [Photo/IC]
BEIJING - Huawei Technologies Co replaced Xiaomi Corp as China's top smartphone vendor in the third quarter, according to a tech industry research company.
In the third quarter, Huawei's shipments registered 81-percent year on year growth, while Xiaomi's shipments shrank, Canalys estimated.
"Xiaomi, with its worldwide target of 80 million smartphone shipments for 2015, is under tremendous pressure to keep growing as an international player as it is slowing down in its key home market," said Jessie Ding, a research analyst based in the Canalys Shanghai office.
As domestic shipments wane, Xiaomi is looking to expand overseas. Lin Bin, Xiaomi's president, said at a technology conference on Wednesday that the company is considering selling its higher-end Mi Note and Mi Note Pro models in the United States.
Xiaomi entered the Indian smartphone market in 2014, selling a million handsets.
While Xiaomi has to face off against big names like Apple and Samsung overseas, there is also fierce competition at home.
Already established as an international smartphone maker, Huawei made 52 percent of its smartphone sales revenue overseas last year. The markets in Africa, Asia and Latin America are blossoming.