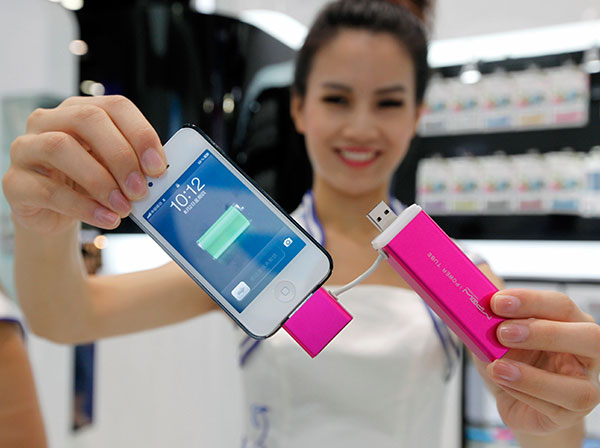 A model demonstrates an iPhone 5 and a mobile charger at an exposition in Beijing. [Photo provided to China Daily]
The relationship between a smartphone and its charger is akin to fish and water.
A fish left out of water will die, and so it is with a phone or any other electronic device, if it finds itself without what it needs to survive.
I only thought of the analogy recently when I took my family on a trip to Hokaido in Japan.
Packing our bags, I had to find space for four different chargers and their accompanying wires and plugs: for my iPhone 4, a portable charger or charge pal, my Wi-Fi router and a camera.
Because my wife uses a Nokia E71, she too had her own charger, and of course, my daughter's iPhone 5 and its charge pal needed to be brought.
Together that is seven different chargers and a horrible tangle of wires and clumsy plugs. So it got me thinking, "this is crazy".
We now depend daily on so many electronic items, but it's only worth bringing them along if we have the right charger with us and can be sure of finding a charging socket.
When we arrived at Beijing airport, of course, all of them had to be unpacked and passed through security, but irritatingly all the wires were in a ball in my backpack, and had to be resorted. The glowering security guards stared at me as I struggled to get our electronic gear out and checked.
It must surely be one of the great conflicts of modern life, certainly for everyone who ever has to travel through an international airport: the convenience of devices against the hassle of carrying the chargers needed to keep them alive.
So please add my name to the growing list of people now demanding a unified system of chargers and power points. It surely makes sense from a business point of view, and environmentally.
According to the Ministry of Industry and Information Technology, the number of Chinese mobile phone users hit a record 1.29 billion in March this year. These millions, especially younger people, are updating their handset models at least every two years.
This ongoing appetite for the very latest, of course, is accompanied by a swelling demand for mobile phone chargers - they are lost often, or broken and have to be replaced - and just think of the growing energy consumption and emissions.
Wang Xin, my former colleague who now works in the public relations industry in Shanghai, for example, tells me he bought his first Nokia mobile in the late 1990s and has since bought five more, the latest an iPhone 6 Plus, but each needed different chargers.
A recent report on Tencent News claimed that more than 100 million old smartphones were discarded by their Chinese owners last year as they bought new models.
Along with each new sale came a new charger and its plug, and often headphones.
The report claimed, quite rightly, that phones and their accompanying accessories now account for a rising percentage of waste in China.
This obsession for update and replacement of phones is creating a mountain of unused items, which is getting out of control.
All of the major producers preciously hold onto their own mobile phone charging interfaces, sockets and plugs because these add-ons have become a major profit contributor to overall income.
Back in June 2007 the Chinese government urged producers to come up with a standard for all chargers sold in the market. It was only an industry recommendation, however, not mandatory.
But with our growing awareness of environmental protection, the continuous improvement in China's business regulations, and the improvements being made in standardizing so many areas of industry, it is surely time now for the authorities to re-address the issue, and make manufacturers sit down together and unify their chargers.