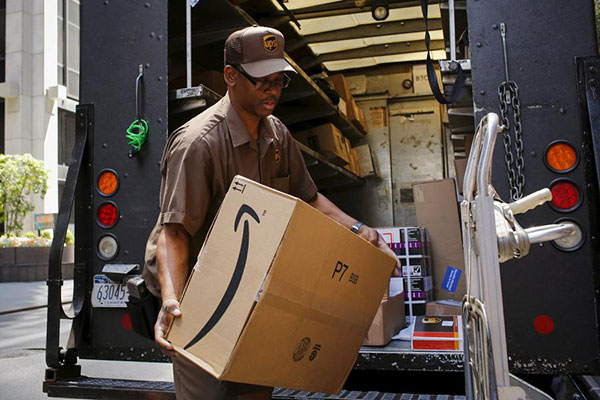 A UPS worker carries an Amazon box to be delivered in New York July 24, 2015.[Photo/Agencies]
United States-based e-commerce giant Amazon.com Inc is planning to boost its investments to help more Chinese companies and brand owners go international.
Amazon launched the "global selling" business in 2012 to help Chinese manufacturers sell their products to more than 200 million customers, mainly in the US, Europe and Japan, and build their brands in the world.
Growth in the "global selling" business has accelerated sharply in the past year, with sales doubling year-on-year in the first half of 2015, the e-commerce giant said in Guangzhou on Wednesday.
The surge was largely due to the higher investments made by the US firm to draw more Chinese businesses last year when it saw a "perfect storm" for the business expansion, said Sebastian Gunningham, the global senior vice-president of Amazon.
"Chinese companies are ready to build their brands internationally while markets in the US, Europe and Japan are mature enough to absorb the new brands," Gunningham said.
"We have built a global network of fulfillment by Amazon centers to help make it easier for Chinese businesses to tap into our large customer base."
The FBA centers free Chinese sellers from their "biggest headache" of dealing with the storage and delivery of their products overseas after the products are sent to Amazon, said Ye Weilun, vice-president of Amazon China.
South China, especially Guangzhou and Shenzhen, and the East China provinces of Jiangsu and Zhejiang are the two biggest bases for Chinese businesses on Amazon, and logistics is a big challenge for these manufacturers to shift from business-to-business to business-to-customer transactions, Ye said.
Amazon unveiled more tools on Wednesday, such as operating platforms in Chinese on Amazon.com and Amazon.co.uk and offering "unified seller accounts" to Chinese businesses, so that they can transact on the websites of any European country after they get registered on any one of them. These services are expected to cover more countries around the globe.
Supporting teams have also been set up in Beijing, Shanghai and Guangzhou to help Chinese businesses with logistics, payment and overseas customer services, further expanding its "global selling" capabilities in China.
"My vision is that in a year or two it will become easier for Chinese businesses to open shops on Amazon's global sites and sell products all over the world. They just need to focus on quality, while we can help them with the difficult part like cross-nation logistics," Gunningham said. "We will keep on increasing our inputs to help China-based firms to transform from 'made in China' to 'brand in China'."