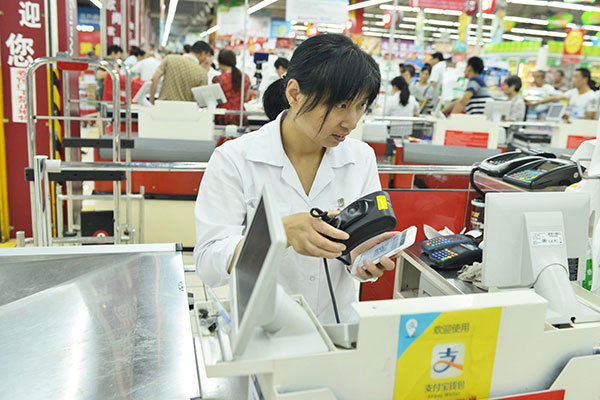 A shop assistant at a supermarket in Hangzhou, capital of Zhejiang province, scans QR code on a buyer's mobile phone. Leading Internet companies are scrambling to expand their offline operations by linking up with traditional brand name retailers. [Photo/China Daily] 
Alibaba, Tencent team up with major traditional retailers to launch payment plans for customers
China's leading Internet companies are scrambling to expand their offline operations by linking up with traditional brand name retailers.
Alibaba Group Holding Ltd and major rival Tencent Holdings Ltd hope to use their mobile payment platforms to crack a market dominated by China UnionPay, the country's largest bank card processing provider.
Under deals rolled out by the big two Internet players, online customers are able to pay for their goods purchased at two of the world's biggest retailers, Wal-Mart Stores Inc and Carrefour SA.
"As the competition in the online payment market intensifies, Alibaba and Tencent are looking to the offline retail sector for further growth," Sandy Shen, research director at the information technology and advisory company Gartner Inc, said.
Clients of Alibaba's Alipay have been able to use the smartphone mobile payment platform to buy products at selected Walmart and Carrefour supermarkets since April and May.
The pilot scheme involved Carrefour outlets in Beijing, Shanghai and Hangzhou as well as more than 1,000 shops owned by China Resources Vanguard Co Ltd, one of the country's largest supermarket chains.
In May, Alipay expanded the scheme to include 25 Walmart stores in Shenzhen. Earlier, Tencent's WeChat platform announced plans to process payments from supermarkets and stores nationwide, including 12 run by Carrefour, the French multinational retailer, in Guangzhou and Shenzhen.
Sealing agreements with Wal-Mart Stores, the discount chain giant based in the United States, and Carrefour are the latest moves by Alibaba and Tencent to grab a larger slice of China's third-party mobile payment market.
Last year, the sector surged to more than 5.99 trillion yuan ($966 billion), up 391.3 percent from a year earlier, according to a report by Internet consultancy iResearch in Beijing. "The e-commerce boom in China continues to gain traction and third-party mobile payment platforms are being applied to more situations, so the market will see even further growth," the report revealed.
By 2018, iResearch is predicting the industry will be worth 18 trillion yuan. Naturally, Alibaba and Tencent, the two biggest players, see incredible growth prospects.
But this market is still dwarfed by the traditional retail sector, which is dominated by UnionPay. Last year, it was worth more than 26 trillion yuan.