With major Internet companies joining the campaign, giving cash-stuffed red envelopes, or hongbao, during the Spring Festival is set to become an online meme this year, again.
The hongbao campaign, which made its debut during last year's Spring Festival with Tencent's widely used messaging app WeChat, has proven to be a huge success in terms of attracting new users to mobile payment services.
This year, domestic Internet companies, such as Alipay, Sina Weibo and QQ Mobile have followed in WeChat's footsteps.
A total investment of more than 7 billion yuan ($1,120 million) is estimated to be put in this year's campaign by the firms.
In the last part of our three-part series, we take a look at some service-oriented apps used during this year's e-hongbao campaign.
The first and second part can be read here:
Festival Special: Apps that help commuters avoid rush
Festival Special: Apps that make holiday shopping easier
Alipay Wallet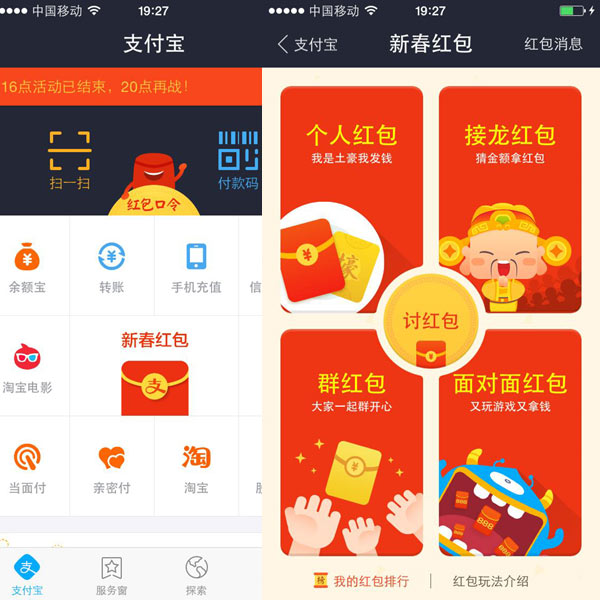 Screenshots show the app of Alipay Wallet, the mobile payment application backed by Alibaba Group Holding Ltd. [Photo/chinadaily.com.cn]
The app has added an extra 12 million yuan ($1.92 million) to online red envelopes after complaints from users. Many said it was almost impossible to get hold of a red envelope after the company kicked off its campaign at 10 am on Feb 11, 2015, with cash incentives as well as online shopping coupons.
According to the company's statement on Feb 10, 2015, it also said it will offer up to 50 percent discounts for those who shop in its brick-and-mortar partners' outlets in South Korea, Thailand and Singapore during the Spring Festival.
Up to 200,000 shops, supermarkets and restaurants in these destinations will participate in Alipay's campaign.