African market remains major attraction for Chinese firms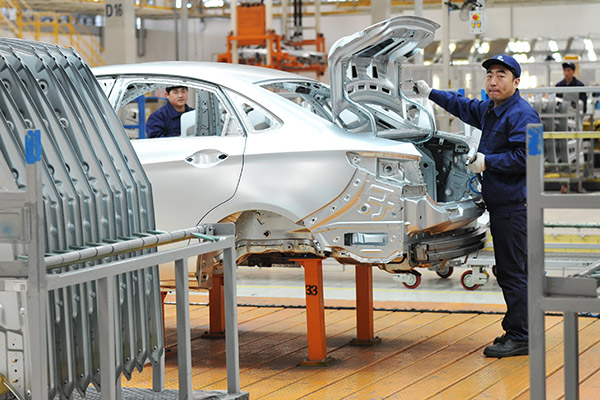 A worker at the production line of Beijing Automotive Industry Corp in Beijing. [Mai Tian/for China Daily]
Chinese investors remain enthusiastic about investing in the African market despite frustrations and challenges coming from unexpected restrictions, misunderstandings and cultural conflicts.
For years, Chinese enterprises, both major State-owned ones and privately owned small ones, have been finding their way onto the African continent either to transfer their production capacity or to seek new markets.
There are now more than 10,000 Chinese enterprises operating in Africa, with 90 percent being privately owned, according to Wei Jianguo, vice-president of the China Center for International Economic Exchanges.
In South Africa alone, there are more than 300 Chinese enterprises, investing a total of $13 billion in finance, electronics, telecommunications, automobiles and construction engineering.
If the previous investment could be regarded as a trial run, the Belt and Road Initiative certainly serves as a big boost to Chinese investors' new moves in Africa. A forum held by members of South Africa Chinese Enterprises Trade Association in Johannesburg last month revealed that encouraged by the initiative, almost all the big Chinese players are working out plans to invest more in Africa.
Beijing Automotive Industry Corp, for instance, is speeding up the construction of its manufacturing plant in Port Elizabeth, South Africa, together with its joint-venture partner the South African Industrial Development Co.
Despite reports of conflicts between the partners, Li Xingxing, executive vice-president of BAIC International Development, promised that the plant will go into operation according to the original schedule.
"The equipment for the assembly line worth about $50 million has been manufactured back home and is ready to be shipped to the plant now under construction, and the plant will go into operation without any delay," Li said in his office merely a few hundred meters away from the construction site of the new plant, neighboring a truck assembly factory of FAW in Coega Industrial Development Zone.
Li's 5.5 billion yuan ($843 million) project is not only BAIC's first overseas manufacturing plant but also South Africa's biggest overseas investment in decades.
Earlier, a local chamber of commerce claimed that the project was five month behind schedule, that problems involving procurement and language differences were hindering communication between the partners and that construction materials that should have been sourced locally were imported.
Li said misunderstandings did exist, although they have been smoothed out and both sides had adopted a cooperative attitude.
While BAIC is mending its relations with partners, Tong Ren Tang, the leading traditional Chinese medicine producer, is trying to persuade related South African authorities to grant visas and work permits to TCM doctors without whom its business in the country would come to a standstill.
Targeting thousands of Chinese people living in South Africa and Africans who are taking a liking to Chinese medicine and acupuncture, Tong Ren Tang has opened five clinics in different cities. Its business would have been booming had it not been for the fact that the company finds it difficult to obtain work permits for TCM experts whose diagnosis and prescriptions are crucial to the operation.
As a tradition, many TCM doctors gained experience and fame through long-time practice and got precious tips from their masters. Such masters, however, may not meet the requirements of the South African authorities which stress educational qualifications. As a result, applications by good doctors are turned down, frustrating the company which wants to provide high-level TCM service to local people.
Its clinic in Johannesburg, for instance, is open but has no doctors. "We have to borrow doctors from other clinics, and that means other clinics have to be closed during their absence," said Zhong Peng, president of Tong Ren Tang's African business.
Zhong said his company has already hired 22 employees, 15 of whom were local hires, and is in talks with local universities to provide acupuncture courses. "We have plans to set up more clinics and pharmacies in other African countries in the next three years," he said.
Cheng Longhai, project director of the Zanzibar airport terminal in Tanzania, on the other hand, has his headaches. "Hopefully, we can restart our project and hand over the key to our partner before the first half of 2019," Cheng said. Standing in front of the half-finished terminal which dwarfs the nearby terminal in use, Cheng said the project had been at a standstill for almost two years because of money problems.
An overseas project of Beijing Construction Engineering Group, the terminal involves an investment of $128 million. The biggest structure in Zanzibar, the terminal's roof and glass curtain walls have been completed, although more money will be needed for interior decoration and equipment.
The good news for Cheng is that the lender recently came for an on-the-spot inspection and it's likely that new funds will flow in and the remaining work will be restarted before the end of the year. That will be a great relief to Cheng and his team of 15 Chinese workers who have been living in their Zanzibar dorm tending the half-finished project.
While money making is a necessity for a Chinese enterprise in Africa, only by going local and benefiting African people can they ensure its sustainable development, according to Li Xingxing from BAIC. Most of the Chinese investors are making sure that 90 percent of the employees are local and a big portion of materials consumed are sourced locally. In South Africa alone, Chinese enterprises are employing more than 24,000 local people, according to SACETA's 2016 white paper. BAIC is planning to provide 800 jobs to local workers and engineers once its plant is fully operational.
"In coming to invest in Africa, one should have a thorough understanding of the local labor and employment policies," said Li, who has been shuttling between Beijing and Port Elizabeth for years. His other suggestions include a careful feasibility study of the local market and strictly abiding by the local laws and regulations.
"The biggest thing lies in how we, the Chinese, can build it into a local company and adapt to local conditions. And this may need a change of mindset as well as practice," Li said.