Sharing economy offers new chapter for bookstores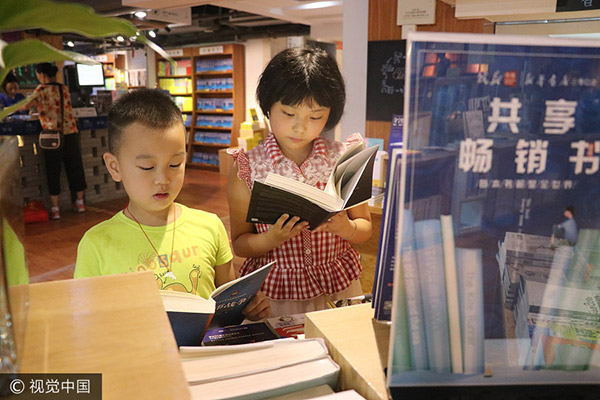 Children read books at shared bookstore in Hefei, Anhui province, Aug 7,2017. [Photo/VCG] 
On a sizzling hot summer morning, a story in China Daily caught my eye. It said that Hefei, capital of Anhui province, now has the world's first shared bookstore, which allows readers to borrow new books if they pay a 99 yuan ($14.99) deposit.
I admit before I read the news, I was a bit fed up with the concept of shared things. In the past few years, China has been swept by a shared economy wave, and you may have tried or heard about shared bikes, power banks, KTV, fitness rooms, and even chairs. But I have no problem with the idea of shared books, because I'm a book lover.
For me, the news was encouraging, because you can save money and overcome the problem of storing the books. Unlike a library, where you can only see the photo of the book's cover and a brief introduction, shared bookshops make it possible for you to decide which books to borrow after fully browsing through them. What's more, the move could lower the threshold for people to read books and lessen the burden on traditional bookstores from rising operating costs and competition from e-commerce rivals.
According to a report from the All-China Federation of Industry and Commerce, nearly half of China's bookstores closed between 2002 and 2012 due to reasons including readers' preference for digital device over paperbacks, rising rent and labor costs, and competition from online retailers.
In 2016, sales at China's brick-and-mortar bookstores declined 2.33 percent year-on-year, according to an Everbright Securities report.
In order to attract and retain customers, some bookshops have made efforts to innovate such as setting aside a large open area for reading and rest, holding salons, inviting writers of new books to attend signing promotions, and selling coffee, handicrafts and stationery.
Shared books are bookstores' latest effort in this regard. Statistics from the State Information Center showed that the sharing economy across China was worth around 3.45 trillion yuan last year, up 103 percent year-on-year. It is estimated that more than 600 million people are participating in the sharing economy, 100 million more than a year ago.
A national reading survey unveiled in April this year showed that in 2016, Chinese people each read less than eight books. Jumping on the bandwagon of the shared economy may attract young people to return to bookstores first, and help develop their reading habits.
However, there is still an essential element I have not discussed yet, which is the book itself. Customers won't pay for things if they do not think they are worth it. Therefore, when a bookshop cannot offer high-quality books, it cannot be successful.
The new British 10-pound banknote featuring Jane Austen, the author of the novel Pride and Prejudice, represents a great example of how popular a classic book could be. The novel, first published in 1813, has sold more than 20 million copies, and has been adapted into movies, television productions, stage plays, Broadway musicals and operas. And the novelist is also well-known for her works Sense and Sensibility, Mansfield Park and Emma.
There are numerous outstanding literary works throughout the history of China, and there are quite a few impressive contemporary writers, all of which deserve to be exploited by publishers, booksellers and industry operators. Authors creating quality works are more needed than mass produced instant culture products.
During a recent interview with a senior industrial analyst, I was eagerly recommended by him to read a book he'd read recently. "It's truly worth reading. I was very excited when I read the last paragraph of the book. But good books are very rare," he said.
I think this is the most difficult aspect to overcome.