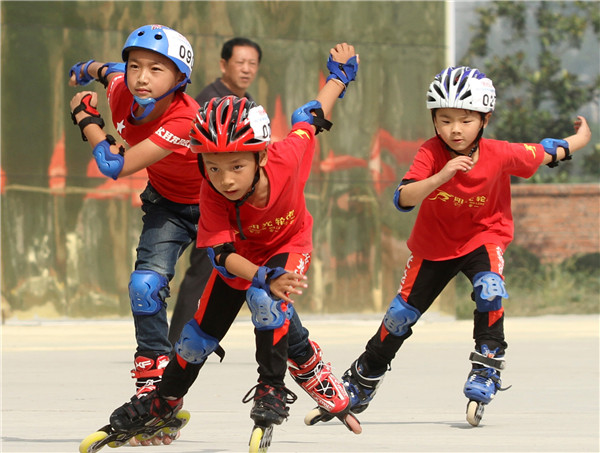 Boys at a roller skating contest in Lixin county, Anhui province. Roller skating is a popular after-school recreational activity across the country.HU WEIGUO/CHINA DAILY
China's small businesses are likely to ensure the second-child policy will bear fruit sooner than later. Allow me a detour to explain.
A weekend walk through a Beijing mall-busyness and business were written all over it-reminded me of a sellout stand-up comedy show I attended last year in Mumbai.
Bollywood comedian Johnny Lever joked that Amitabh Bachchan, whom a BBC poll had voted as the planet's greatest actor, is a money-spinning serial product-endorser.
Lever cited, breathlessly, the stunning range of Bachchan's endorsements, spanning all stages of a human being's sojourn on this planet: conception through birth, childhood, adolescence youth, adulthood, old age to death and even after-life.
It was as much a jibe at Bachchan's grating omnipresence as a comment on the fact that various businesses now cover each and every aspect and phase of human life, constantly re-inventing and innovating on existing products and services.
The five-floor Beijing mall reinforces this point. Small businesses on two of its floors cater exclusively to, hey presto, kids.
Now, extra-curricular activities for tykes during the annual/summer vacation have been around for a while. As a kid in the late 1970s, I remember taking part in free summer cricket camps conducted by the Municipal Corporation of Hyderabad.
Chinese kids in the 4-12 age group now have a wide range of high-tech choices to live up the annual vacation, thanks as much to malls, those temples of urban convenience, as to the slew of businesses that are housed in them.
When I say "a wide range", you got to believe me. This is what small businesses are offering these days: training in acting/drama; drawing/painting classes; instrumental and vocal music; martial arts; roller-blade skating; fishing; play pens; skipping; shooting; interactive big-screen TV games; ceramics; robot operation; English classes; board games like go; reading rooms; learning centers; sit-and-play games, remote-controlled toy car racing.
The list above is indicative, not exhaustive.
Each establishment is brightly hued, lively and busy, buzzing with kids and their parents or handlers. Prices vary from 350 yuan for a week per kid to several thousands of yuan for quarterly and half-yearly contracts.
Parents don't seem to mind. Kids appear to love these myriad activities that harness their latent physical, mental, intellectual and creative energies.
Small businesses appear to epitomize innovation, China's current catch phrase.
For instance, an essentially outdoor activity like fishing is transformed into an enjoyable indoor activity. All it took was a small 6x3 feet space of glass walls encasing water with loads of small red fish and some plastic toy floats in it.
Little girls happily picked up the fishing rods with tiny plastic baskets at one end, bent over the pool, netted some slippery fish deftly, transferred them quickly into a small plastic bucket, and were ready to catch more.
Young moms appeared happy to pay for this service. As their kids got busy indoor-fishing, they plonked themselves on bean bags by the poolside and got busy with their smartphones.
At an indoor shooting shop, the gun/rifle is real, but bullets and the target prey (birds and deer) are virtual. Simulated scenes of forest come alive on a big screen, complete with boom-boom audio effects.
You wade through the forest, aim your gun at the bird or animal on the screen, shoot and, bingo, virtual reality technology gives you and your son the kicks, practice and a platform to bond and spend quality time together.
Businesses galore. Professional photo studios make your kid look like those adorable darlings in ads and movies, designer outfits and all. Other stores down the alley sell kids-wear, toys, games, footwear, bicycles, sports goods, strollers and school-gear.
There are family portrait photo studios too. For young moms, body sculpting shops, beauty salons, manicure shops ... You could call the mall an eco-system of commerce for young families. Who needs pollution, stressful traffic, fuel-guzzling drives to picnic spots?
I thought a parenting center here might be a viable business. Young couples could learn how to be great modern parents for digital-age kids.
Given this supportive infrastructure, hesitant, trouble-averse young couples may well think having a second child, and doubling their fun, may not be such a bad option after all?
Contact the writer at siva@chinadaily.com.cn