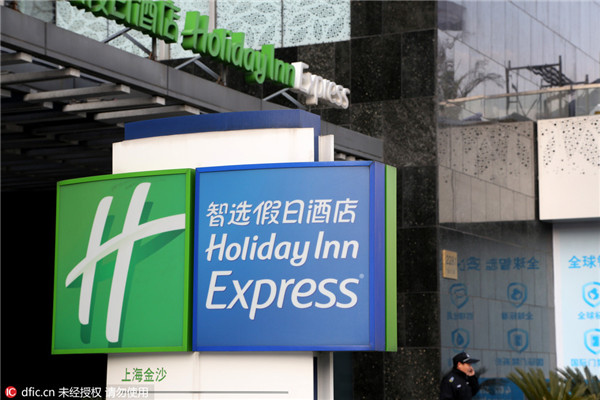 An image of Holiday Inn Express in Shanghai on Jan 7, 2015. [Photo/IC] 
InterContinental Hotels Group PLC has launched a new franchise model for its Holiday Inn Express brand in China, aimed at increasing the pace of its expansion in the competitive medium-ranged market.
"The new model has been tailored to the Chinese market and provides owners with the benefits of operating a franchise model, but with additional benefits and features from IHG's managed model," according to IHG. Previously, IHG was responsible for hotel management for the property owner.
IHG signed its first "Franchise Plus agreement" with Shanghai Yaqi Business Hotel Co Ltd, for a 260-room Holiday Inn Express hotel in the Hongqiao area of Shanghai. The company says the move has been answering a need from the rapid rise of the middle class in recent years, which has led to significant demand for mid-scale hotels in the country.
Kenneth Macpherson, Chief Executive Officer of IHG in China, said: "The launch of Franchise Plus for our Holiday Inn Express brand is an important milestone for our business and for the accommodation landscape in China. We are confident that the new model will be an engine of growth for IHG and our business partners in the coming years."
Holiday Inn Express is one of the fastest growing mid-scale brands, with more than 2,400 Holiday Inn Express hotels globally and over 620 in the pipeline. Since its arrival in China in 2004, Holiday Inn Express has quickly become a leader in the mid-scale segment, in more than 30 provinces and municipalities with 66 opened hotels and another 67 in the pipeline.
IHG continues to be a market leader in the region, operating 268 hotels across 100 cities, with another 212 in the pipeline. Outperforming the market and a growth in rooms in China has helped drive a strong revenue increase for the company.
According to its preliminary results for the year to Dec 31, 2015, IHG's revenue per available room increased by 0.3 percent, with significant declines in Hong Kong and Macao offset by growth of 2.9 percent on the Chinese mainland. Full year growth on the mainland was particularly strong in first-tier cities, up 6 percent.
Zhao Huanyan, senior economist at Huamei Hotel Consulting, said it is a global practice to franchise hotels and an increasing number of multinational hoteliers were considering adopting such a practice in China to speed up their development.