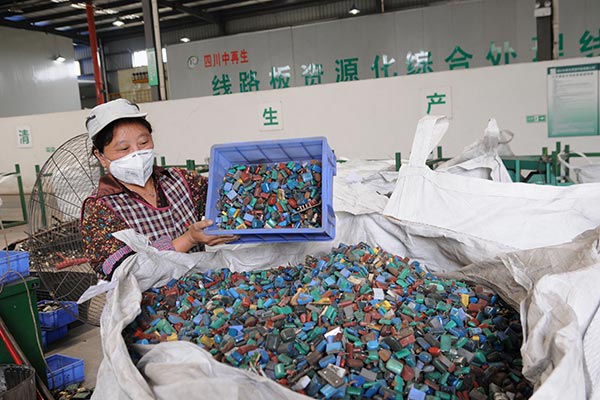 Electronic parts being recycled in Neijiang, Sichuan province, where a recycling system has been established to turn waste into green treasure.[LI JIANMING / FOR CHINA DAILY]
Finding a waste collector in my neighborhood became a headache for me when I tried to get rid of my old TV set last week.
When I moved into this apartment six years ago, a waste collection guy owned a little booth just across the street. Two years ago the booth was gone and the man left only a cardboard sign with his phone number on it. But now that cardboard sign has also disappeared.
After dialing at least five phone numbers found on the Internet, I finally reached a deal. The TV was sold for 15 yuan ($2.3), about the price of a bowl of beef noodles.
"That is the highest I can pay," said the collector, named Liu Huiming, while carrying the TV onto his tricycle. "The price is falling every day. We can hardly earn any profit."
For example, the price of scrap iron and steel has plunged to 0.8 yuan per kilogram from 2.4 yuan per kilo in 2010, and plastic bottles are now sold at 0.025 yuan each, only half of the price one year ago, Liu said.
A lot of Liu's fellow waste collection friends have turned to other businesses, for example, working as deliverymen for the thriving Internet-shopping industry.
The faltering waste collection business is a victim of lower commodity prices due to overcapacity amid weak market demand. Commodity prices, from metals to plastic, have all plunged as the economic slowdown continues. China's Producer Price Index, a measure of costs for goods at the factory gate, has been falling for 45 consecutive months. Economists have said the PPI deflation will likely continue next year.
Many recyclable waste collection businesses have found it hard to survive amid razor-thin profit margins. Nearly one-third of recyclable waste collection stations in Shenyang, capital of northeastern China's Liaoning province, shut down in the past two years, Shenyang Evening News reported in August. Hefei, capital of East China's Anhui province, saw a similar situation with half of such businesses closing in the past three years, Anhui Daily newspaper reported in October.
It is difficult to imagine how many waste collection businesses will survive given the common expectation that industrial commodity prices are unlikely to see a phenomenal pickup in the coming year.
A healthy waste collection industry chain is essential in building a circular economy, an initiative the Chinese leadership embodied in legislation in 2008. And this needs government support in both policy and financial support, especially at a time when business closures become widespread. They need government subsidies to become viable enterprises, as the cost of processing the recyclable materials is now higher than the price of reselling them.
Residents should also be encouraged to help recycling by sorting garbage at the source.
Trash bins in my neighborhood have been divided into three different functions: recyclables, food waste and non-recyclables.
But I always find plastic bottles and cardboard in the food waste bin, while the recyclable bin is filled with vegetable peelings, rotten fruit and smelly leftovers.
The lack of incentives may be a main reason.
Waste recycling used to be a way for kids to earn pocket money when I was a little girl. Empty beer bottles were our favorite items because a beer bottle was sold for 0.3 yuan while a popsicle only cost 0.05 yuan. But that sounds unattractive to today's children. Waste collectors only accept beer cans, for 0.05 yuan each, while the cheapest popsicle costs at least 1 yuan.
The malfunctioning of the waste recycling chain should also be blamed.
I am frustrated when I see the cleaning guy empty the trash bins and throwing everything into the trunk of his tricycle.
I am speechless when I see giant waste collection trucks loaded with garbage, not segregated, pass by early in the morning with filthy, smelly fluid leaking from the trunk.
If the waste recycling chain is not functioning healthily, garbage sorting at the source is only empty talk.
Just as one of my neighbors said, "Why should I sort my garbage when I know it will all end up mixed again?"