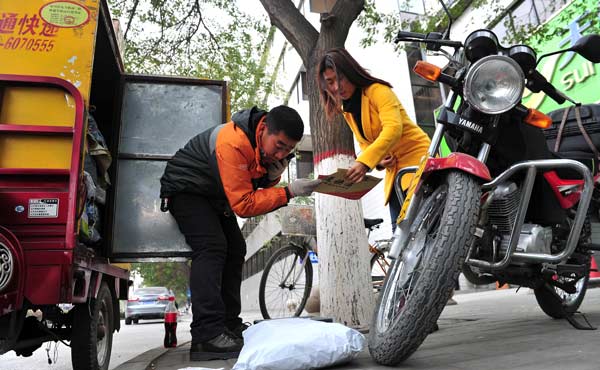 An office worker collects mail from a delivery man outside her workplace in Yinchuan, Ningxia Hui autonomous region.[Photo/China Daily]
The other day I was startled to see an ad by an e-retailer on the wall in the elevator at my apartment block: "Place an order while at work, and take deliveries when you go home."
I know many people are doing exactly this, including myself. On one recent morning when I was on my way to office, I realized I was under-dressed for the cold and windy weather. So the first thing I did when I arrived at my desk was to order a pair of cotton thermal pants online to be delivered before I went home.
But I was always a bit guilty of e-shopping instead of working, the same way I felt about surfing the Internet on company time. In addition to lengthy window shopping on e-commerce sites with the multitude of choices available, people would also drop their work immediately when they get a call from deliverymen who make a living from the sheer volume of parcels distributed.
Internet shopping is a roaring national trend that has spread to government and company employees. Research data show that Chinese e-shopping is most active on working days and usually peaks on Tuesday. The busiest time when orders are placed is about 10 am, after people start work. Some may continue shopping at home, but the volume falls behind that at work.
While it's difficult to put a price tag on the loss of productivity as employees click and collect, there have been public outcries over public servants browsing and shopping when they are supposed to serve.
The punishment for government shoppers - if they are caught - is usually swift and severe. Amid national crackdowns on activities not related to work last year, two public servants in a county in eastern Jiangsu province were suspended from their jobs after investigators looked into hundreds of deliveries to local government offices and found their orders were placed at work.
In contrast, policies on such unauthorized Internet use have varied from one company to another. Some monitor or restrict access to e-commerce websites for their employees and forbid deliveries to their doors. But it's a controversial practice because many employees support ordering and taking deliveries at the workplace because it is cheaper and more convenient.
More companies seem to have adopted a tolerant approach that essentially says employees can shop online as long as they get their work done.
The simple logic is that it is getting increasingly difficult to ban the new consumer behavior with the wide use of smartphones.
Officials statistics show that in the second quarter of this year, mobile transactions exceeded those made via personal computers for the first time, as e-retailers lured users away from PC screens with aggressive marketing.
Another consideration is that if employees could break for smoking or exercising, fellow workers should also be allowed to use the time to do online shopping, which could make their stressed life much easier after work.
Those flexible employers could also want to put on a human face and make their employees happy by offering some trivial, low-cost perk, amid the unstoppable shopping revolution, unless the little transgressions get out of the hand and become too expensive to accommodate.
The elevator ad tagline that advocates shopping during office hours reminds me of daily scenes of proud workers returning from delivery points near the company, with packages of different sizes and shapes like trophies.
Perhaps it's a better idea to keep one's head down, even if he or she has to place that order and go to collect it, while others work.