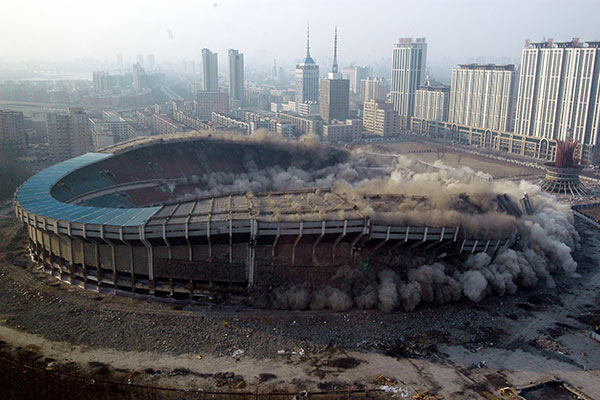 The Wulihe Stadium in Shenyang, capital of Liaoning province, was dismantled in 2007. It was built with an investment of 250 million yuan ($38.7 million).[Provided to China Daily]
In a 15-second bang, Xi'an, the capital of Shaanxi province, set a record in China on Nov 15-with a controlled explosion which reduced a 118-meter-tall building to rubble.
The building, which was empty since 1999, was now no more than a memory amid the clouds of dust. I bet many laymen like me would consider this to be an unbearable waste.
It was a pity because the office tower was not even used for a single day. It was a shame, because it was a huge waste. And it's a regret, because not a single person was blamed for this.
Amid China's rapid urbanization and much-envied economic growth in the past decades, short-lived buildings are not a rare phenomenon.
On Oct 14, Chen Clan Academy Square in Guangzhou, Guangdong province, which was constructed at a cost of 800 million yuan ($125 million), was destroyed. It was just four years old.
In August 2010, a four-star hotel, near the Jianguomen Bridge on the East Second Ring Road in downtown Beijing, was demolished. This landmark hotel went into service only in 1992. It was 18 years old.
On Feb 12, 2007, the Wulihe Stadium in Shenyang, Liaoning province, where the Chinese national men's soccer team beat Oman to qualify for the 2002 FIFA World Cup finals, was dismantled. It was built with an investment of 250 million yuan. It was 20 years old.
And as I write this article, the demolition of another building in Zhengzhou, Henan province, has begun. It was a key project in the province for promoting tourism, cost 180 million yuan and was not even completed.
These are but a few examples of such profligate waste. The list is already long, and continues to get longer.
According to the Code for Design of Civil Buildings adopted and implemented in 2005, the durability of important buildings should be 100 years, and for general buildings, it could be anywhere between 50 and 100 years. The actual lifespan of buildings in China, however, is just 25 to 30 years, which is much shorter than that in the United Kingdom, France and the United States, at 132 years, 85 years and 80 years, respectively.
China constructs about 2 billion square meters of civil buildings each year, accounting for about 40 percent of the world's total cement and steel consumption. With an ambitious plan to lift the country's urbanization rate from 54.77 percent in 2014 to around 70 percent in 2030, a boom in new construction and renovation is unavoidable. And during this process, it is predictable that more buildings will die young.
There may be varied reasons behind such short-lived buildings. From my point of view as a layman, the first and most direct one is the lack of long-term planning and accountability, leaving loopholes for manipulation or modifications, and usually, no officials are held to account for such planning and construction faults.
The second, and probably the most likely reason, is that some local officials seek to dress up GDP figures and use their term of office to make their mark, which in turn might become the bricks paving the way up on the path to greater power. Whether it's intentional or not, local gross domestic product figures are inflated by construction, destruction and reconstruction, and impressive GDP figures are the trump card for promotion. But if the inflated figures become the stumbling blocks of their political career someday, even if we could not guarantee all of these buildings stand for a century, at least we will see fewer such short-lived buildings.
Whatever the reason might be, it's a huge loss of hard-earned wealth of the country. Yes, China is the second-largest economy in the world, but we should also bear in mind that the country still has more than 70 million people in poverty, and about 400,000 yuan would be enough to sponsor a Hope School in rural areas.
A decade or so ago, when coal-mining disasters were frequent, many people, officials included, claimed that blood-tainted GDP should never be sought after. And now I would say: Neither should we pursue waste-driven GDP figures.