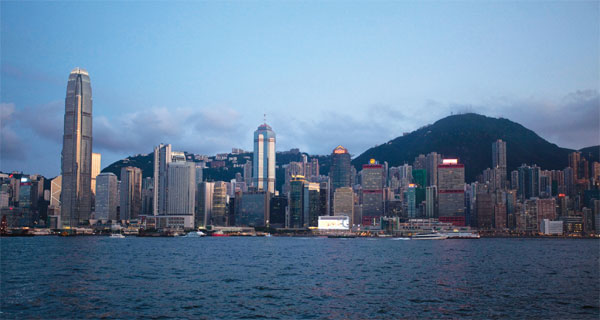 Hong Kong [File photo/Agencies]
My mainland friends and I often engage in intense debates about whether or not Hong Kong has already become marginalized financially.
"The Hong Kong people areliving an old dream," one friend said with a sigh last week. "They are being left behind by the Internet tide-they don't even use Taobao."
Another lamented: "Their mindset is lagging behind. How many young people know about O2O (online to offline business model), or P2P (peer-to-peer lending through Internet), or crowd funding?
"Mainland youngsters are constantly fighting against the clock to build the next major business empire; but young people in Hong Kong are still so obsessed with complaining."
Strong opinions, shared by some others certainly.
But I've got a more generous view of the city since I arrived here last summer.
What I still see here is a vibrant young business community, despite what can sometimes be a nonchalant outward appearance, which is still driving on, powered by a very modern infrastructure, and business ethic.
Talk in the press about Hong Kong having "had its day financially" are in my opinion grossly premature.
And the city's still go-getting attitude is no better illustrated than at the Hong Kong Stock Exchange.
Forty-six companies have tapped the Hong Kong market to raise funds in the first six months of this year, generating proceeds of more than HK$127.5 billion ($16.5 billion), a 57 percent rise, according the latest data from Deloitte.
Analysts now fully expect Hong Kong to reclaim its place as this year's IPO champion, outpacing its traditional rivals, New York and London.
These results are strengthened further by the fact that the three biggest IPOs in Hong Kong this year to-date were by mainland-based companies, including sizable brokerage companies GF Securities and Huatai Securities, aswell as the parent company of the world's biggest computer manufacturer, Legend Holdings.
This is an eye-catching result, especially given the mainland authorities have been speeding up their approval of new listings, and the historically high valuations being offered for IPOs in Shanghai and Shenzhen, pushed up by the frothy bull equity market.
Why are so many companies still interested in a Hong Kong listing?
"A major reason is the Hong Kong market is more transparent and accessible," an investment banker friend told me. "As long as you are qualified and follow the rules, you will get the approval. But in the mainland, it still costs you too much time and energy to figure everything out, and that's even if you can find anyone to tell you."
It currently takes just 4 to 6 months to get listed on the HKEx, from application to listing, while in the mainland, the process can stretch out to several years.
As a financial reporter operating in Hong Kong, I have found this greater ease of getting things done for myself.
Finding information here, or having things explained, is so much easier than in the mainland.
The Hong Kong Stock Exchange's slick media operation actively contacts reporters to explain any regulation change or breaking event.
If you have any uncertainties you can call them, and very likely they will answer your question.
In the mainland, however, for all but a few experienced reporters, it is very hard to reach the spokespeople of most government organs, and certainly the bourses in Shanghai and Shenzhen.
I have tried contacting the media offices in Shenzhen by phone, text message, and email.
If anyone picks up the phone, they are invariably too busy to talk and hang up immediately. Messages are rarely answered.
Everyone who haslived or worked in the mainland knows the importance of "guanxi" (personal contacts, connections, relationships in the networks of influence). Essentially, as a reporter it's a tough task to find the facts you need without talking to the right person.
Things have started improving, as the government strengthens its fight against power abuse.
On Saturday, for instance, China'sstock market regulatory body, the China Securities Regulatory Commission, announced via Weibo that it had fired a top official in its stock issuance supervision department after discovering that her husband had been involved in illegal trading.
But there is still much room for improvement.
The mainland may well continue to offer considerably more new business ideas and enjoy a continual stream of innovative new technologies.
But it remains a big question whether the brightest prospects will stay at home for companies to raise the cash they need to expand, or look to Hong Kong for funds.