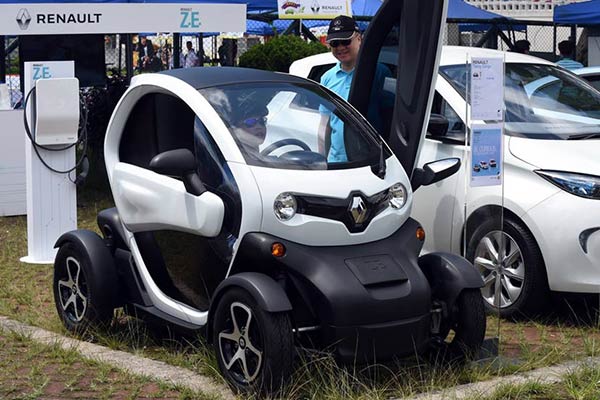 A visitor looks at an electric car at the "Electric Vehicle Fiesta 2015" at Lam Tsuen in Hong Kong on June 14, 2015. [Photo/ IC]
After spending two years on Beijing's monthly ballot for car license plates, seen as the best way of curbing traffic congestion in the capital, my neighbor Jiao Wen finally decided to go electric to avoid what was starting to look like long odds.
But Jiao, who is 35, had to rethink again, after learning that it's also far from straightforward to go down the greener-car route.
It appears that the building of electric vehicle charging stations in her neighborhood of Chaoyang district is yet to be approved.
"It's certainly not convenient to charge at home. And unless there's a charging station within five minutes' drive, having an electric car might be a problem. So I started to go off the idea," she said, adding that the reliability and durability of the batteries of domestic EV brands also gave her second thoughts.
Her concerns are common, leaving many without much option but to take their chances in the ballot, despite the obvious perks and privileges now being offered to buyers by the country's fledgling EV industry.
To fight against growing levels of air pollution and reduce the country's reliance on imported oil, China has introduced a series of measures, including subsidies for the purchase of new electric vehicles, and the licence lottery for conventional vehicles from which electric cars or hybrids are exempt, to limit the number of new cars on roads, and cut emissions.
Earlier this year officials in Beijing also said they were considering cheaper or free parking for electric car drivers.
But the incentives are yet to drive more people to buy.
Official data show the country has targeted having 500,000 EVs on its roads by 2015, and 5 million by 2020, but the total hit just 120,000 at the end of 2014, and has largely stayed in neutral so far this year.
And as Jiao herself found out, the electric car industry is likely to struggle until something is done to install a more comprehensive charging infrastructure.
"Most of the companies that manage residential areas do not allow the installation of charging poles due to safety concerns," Jiao said, as she tried to look into the facilities available.
"They also say that the poles' high voltages (380-500 volt) will affect the 220-volt circuit already installed in many neighborhoods, and they require a lot of work, just to get wired up."
Owners without parking spaces have also complained it is difficult to find a convenient spot to recharge their battery at home.
And it is not only the management firms who object.