Real estate giant invests billions of pounds in UK
Updated: 2014-01-24 11:08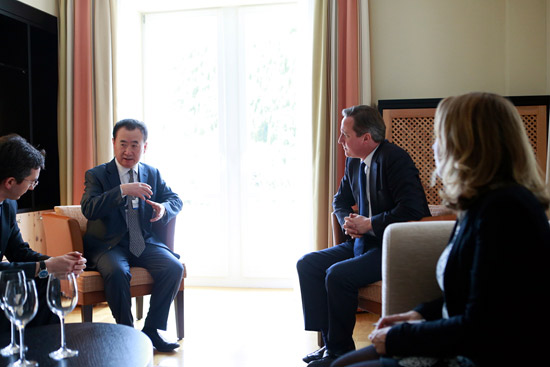 Wang Jianlin, Chairman of
Dalian Wanda
Group, talks to UK Prime
Mini
ster David Cameron on Jan 24, 2014 in Davos, Switzerland.[Photo / Provided to chinadaily.com.cn] 
Dalian Wanda Group, one of China's largest real estate and shopping mall developers, announced its intention to invest two to three billion pounds in Britain's regeneration projects on Jan 24, 2014.
Wang Jianlin, Chairman of Dalian Wanda Group, and UK Prime Minister David Cameron jointly announced the investment project after their meetings at the 2014 World Economic Forum in Davos, Switzerland.
The investment will be utilized at Wanda's self-owned intellectual property of multi-used cultural and travel commercial project in the UK.
This announcement comes shortly after David Cameron's recent visit to China, of which Chinese investment in to the UK was a key feature.
According to Cameron, he encouraged Wang to make further investment into Britain during his visit to China in last November. "I'm delighted that Wanda has decided to invest two to three billion pounds in regeneration projects so soon after my visit. This will help to create jobs in Britain and it's a great example of how we can benefit from foreign investment" said Cameron.
Established by Wang Jianlin back in 1988, Dalian Wanda is China's largest property company and also the world's largest operator of movie theatres after the purchase of AMC Entertainment Holdings for $2.6 billion in 2013.
According to Wang, Britain is one of the most important European markets for Wanda's overseas investment plans, it has huge investment opportunities, strong and stable returns and the British government has emphasized that it welcomes overseas investors.
"It is for these reasons we have selected the UK as a key part of our expansion plans" said Wang.