Sales of China-made vehicles rise in Nepal
Updated: 2014-01-15 14:48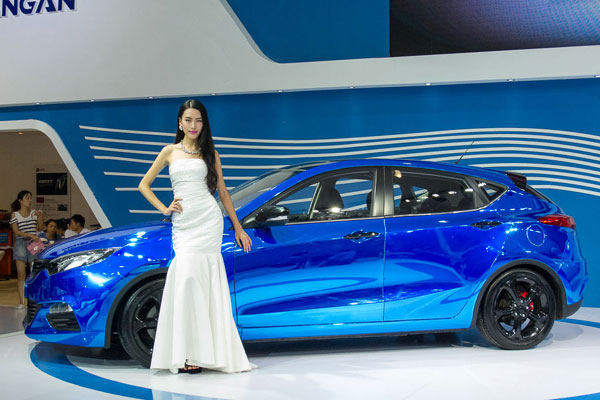 A model poses next to a Chang'an Eado hatchback car during the Chengdu Motor Show on Aug 30, 2013. [Hao Yan / chinadaily.com.cn] 
KATHMANDU - Just a few years ago, Nepalis shied away from 'Made in China' four-wheelers and were heavily reliant upon Indian, Japanese and Korean-made vehicles.
The reason: Nepalis believed that vehicles made in China were not reliable and would easily break down.
Now, however, China-made vehicles have succeeded to win the hearts of Nepalis automobile connoisseurs and customers because of their proven reliability. Of late also, parts and accessories for vehicles made in China are now readily available in most parts of the country.
Official data released by the Department of Transport Management reveal that the market share of Chinese vehicles in Nepal stood at around 7 percent in the last fiscal year. This used to be a measly 3 percent a couple of years ago.
In the similar way, dealers selling Chinese cars in the market are upbeat about the good performance of Chinese cars in the coming days.
"This is just the beginning of future success of Chinese automobiles," Rajesh Kaji Shrestha, president of Nepal China Chambers of Commerce and Industry, told Xinhua by phone.
Shrestha, who also owns Constant Business Group, the dealer of Zyote, a brand of Chinese four-wheeler, expressed confidence that the roads in Nepal are suited for Chinese vehicles.
He said the automotive industry in China grew with such vigor that Nepali customers have no options but to patronize China-made vehicles which are cheaper and of excellent quality.