Changan to reduce focus on gas-fueled cars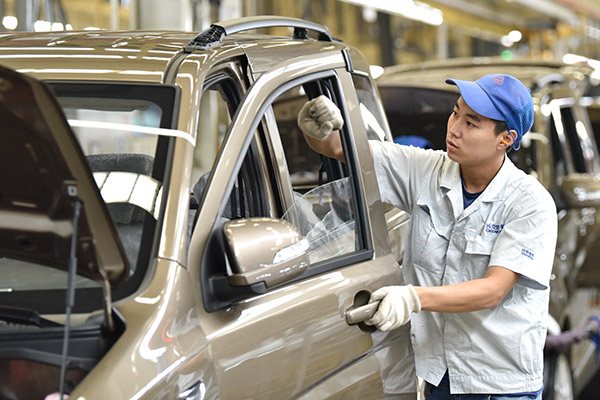 A Changan technician tests a car at a production line located in Dingzhou, Hebei province. [Photo/Xinhua]
Chongqing Changan Automobile Co announced on Thursday that it will stop selling conventional gasoline cars by 2025, but it will continue to produce hybrid cars, driving electric generators that power electric motors.
By then, it plans to invest 100 billion yuan ($15.1 billion) in new energy cars, including launching 21 electric car models and 12 plug-in hybrids, said the carmaker, which is based in the city of Chongqing in Southwest China.
Changan President Zhu Huarong said the investment will cover a number of things, ranging from car research and development to making batteries and building charging facilities.
The carmaker also announced the establishment of an industry fund, which Zhu said will allow Changan and its partners-including Baidu, Bosch and Didi Chuxing-to invest in the new energy car sector.
Changan sold some 35,000 new energy cars in the first nine months of the year, a 150 percent surge year-on-year.
The move came after a senior official at the Ministry of Industry and Information Technology said in September that China would consider the timetable for a ban on traditionally fueled cars.
In the same month, China promulgated a policy that demands carmakers in the country to produce a certain number of new energy cars starting in 2019 while gradually cutting fuel consumption of their traditional cars.
PwC's Strategy & Partner Bill Peng said Changan's well-timed plan has set an example and others would follow suit soon, even though when Geely said two years ago that 90 percent of its cars would be new energy cars by 2020, everyone thought the manufacturer was joking.
John Zeng, managing director of LMC Automotive Shanghai, said such plans of carmakers are still not so aggressive as many would have thought.
"They need to introduce a large proportion of such cars; otherwise, they cannot fulfill China's fuel consumption requirements, which are four liters of gasoline per 100 km by 2025 and three liters by 2030."
Yet he agrees that new energy cars are an inevitable trend. Globally, Swedish carmaker Volvo earlier this year announced that it would stop producing internal combustion engine-only cars by 2019 and many other carmakers ranging from Ford to BMW have also released ambitious new energy car plans.
"But customers are unlikely to abandon gasoline cars overnight. It will take a long time from now, say at least 2030, for electric cars to really become part of people's daily lives," Zeng said.