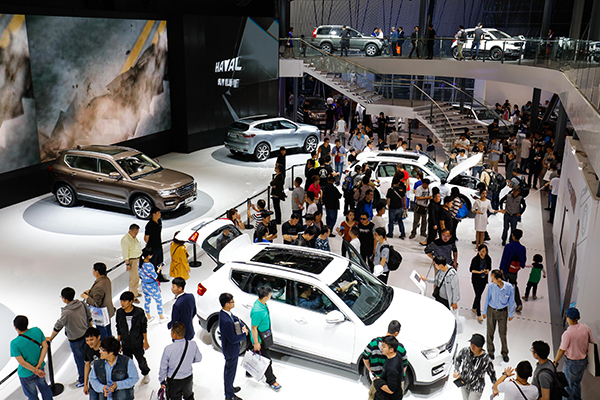 Visitors at the busy Great Wall SUV exhibition area at the Auto China 2016 in Beijing in May. [Photo/China Daily]
International carmakers' profits in the Chinese market have plunged, with rising competition from local players forcing foreign auto giants to give heavy discounts, resulting in a loss of pricing power.
"The profit margins of both Sino-foreign joint ventures' brands and Chinese proprietary brands could fall further," said Yang Jing, associate director of Asia-Pacific Corp at Fitch Ratings.
The New York-based rating agency said in a news brief last week that the retail discounts widened in the first quarter this year as dealers scrambled to meet quarterly sales targets.
Discount rates in the first three months of this year were almost 14 percent, at least two percentage points higher than the rate of around 11 percent over the same period last year. The rates were below 10 percent in the first quarter of 2013 and 2014, according to Fitch Ratings.
Discounts in the car market are usually greater in the second half of the year, and usually get increasingly generous in the final quarter, which is a critical period, both for meeting sales targets and securing bonus payments.
John Zeng, managing director of LMC Automotive Consulting (Shanghai) Co, said: "Low margin is the normal trend in the automotive market. The abnormal profitability that international brands have become accustomed to has disappeared."
He said international carmakers and their joint ventures have become used to dominating the Chinese market, which gave them both strong pricing power and high profits compared to their performance in the European and United States' markets.
"For example, the profit from the Chinese market used to contributed about 70 to 80 percent to Volkswagen AG," said Zeng.
Teng Yan, general manager of Beijing Xinxing Fuqing Automobiles Sales Co, a Chang'an Ford dealer, said sales of the joint venture's cars contributed minimal profits compared to local brands.
"Chinese brands, especially Chinese-branded SUVs, brought high profits to our dealership group," he said.
He continued: "Compared to the other brands being sold by our group, the joint ventures bear higher operating costs and payrolls, while those for Chinese brands are much lower."
Yang said: "Sport utility vehicles will continue to gain market share from sedans. But, as competition in the SUV market is getting increasingly fierce, SUV sales performance and profitability may vary across models from 2016."
She continued: "Once a price war starts, margins may deteriorate quickly for manufacturers that are highly reliant on their SUV businesses."
Chinese SUV maker Great Wall Motor Co's net profit dropped in the first quarter of this year by 5.5 percent compared to the same period in 2015. Its annual net profit last year climbed just 0.24 percent year-on-year after a 2.3 percent drop in 2014.
Zeng noted that the stronger market presence and upward footholds of Chinese auto brands has already impacted significantly on international brands.
"The subcompact and smaller cars have lower margin in China than in Europe and the United States, due to the competition brought by Chinese carmakers. However, international carmakers still have a big say in the segments above mid-size, and will see more profits there," he said.
Car makers in China will face intensifying competition, as the country's automotive market is now in a "new normal" phase featuring tempered growth.
Fitch Ratings expects retail discount rates to rise again later this year to support second-quarter sales, especially among Chinese car brands concerned about their market performance.
China will see annual growth in the passenger car market slow further to 5 percent over the next five years, if car purchases and restrictions on use continue in first- and second-tier cities, while the demand from lower-tier cities might be the major growth catalyst, according to Fitch Ratings.
China Association of Automobile Manufacturers predicted that this year's growth rate would reach about 6 percent, and May saw the highest monthly growth year-on-year, with 2.09 million cars sold, a 9.8 percent rise from the same period last year.
Passenger vehicle deliveries grew 7.3 percent in 2015, slowing from 9.9 percent in 2014. Growth figures for Chinese auto sales peaked at 45 percent in 2009 but have slowed since then.